Introduction
The fascination of a ski tour – no other winter sport has experienced such a significant upward trend in recent years. It is becoming more and more popular to climb a mountain on touring skis and then enjoy a unique downhill experience on virgin snow. The ski touring trend is not always just about hour long ascents in remote regions. In the foreground is also the unparalleled pleasurable experience from slowing down and enjoying the proximity to nature.
Tips for your first ski tour
Before you start your first ski tour it is, of course, essential to have the right equipment. However, you do not need to break the bank for the purchase of material. For a start, it is advisable to simply rent boots, skis, poles and climbing skins. In doing so, your best bet is to rely on a SPORT 2000 rent dealer in your area so that your boots are really comfortable. After all, you don´t want tight boots and blisters to spoil your whole tour. The quality of the rental ski, however, is less crucial for beginner ski tours. An absolute must, however, is the emergency equipment. Especially when buying an avalanche transceiver, we recommend investing in a modern three-antenna device. Let your local dealer advise you on equipment, clothing and emergency equipment. Since backcountry touring certainly won´t appeal to everyone right off the bat, slope touring is a safe start for beginners. Local regulations should always be observed. In most ski areas, touring skiers may climb only at the edge of the piste and must observe special rules for the safety of downhillers and ski tourers. Otherwise, it is advisable to join a guided ski tour with experienced tour guides.
4 promising panorama ski tours in beautiful Upper Austria
Whether beginner, advanced or professional, there is a suitable ski tour for everyone; backcountry joy inclusive.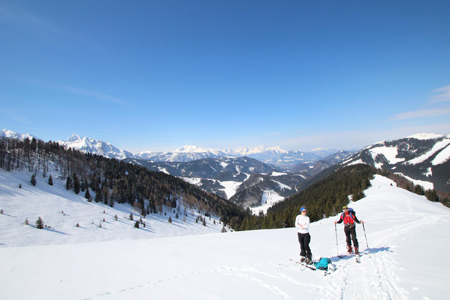 From the Hengstpass hut to the Schwarzkogel summit – easy
The short, but enjoyable and panoramic ski tour in the Ennstal Alps leads from the Hengstpass hut at 997 metres altitude up to the summit of the Schwarzkogel with its altitude of 1533 metres.
The tour is especially suitable for beginners since, at 4.6 kilometres, it is not particularly long, taking only about 2¾ hrs.. During the 522 vertical metres ascent you can enjoy a particularly rewarding panorama in fair weather!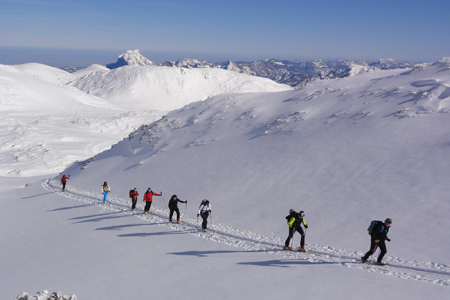 Rieder hut and Höllkogel winter ascent – easy
This relaxed ski tour full of breathtaking views in the mountains of the Salzkammergut extends from the beginning of the Feuerkogel cable car at 1592 metres up to the Höllkogel at 1862 metres.
With a duration of 4½ hours and about 10 kilometres long, this tour is also suitable for beginners. After 534 metres altitude ascent, you can treat yourself to a break in the Rieder hut.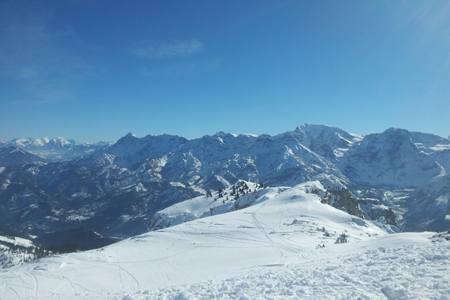 Over the Katzengraben to the Kasberg summit – medium
You get your money's worth on this somewhat challenging tour in the Upper Austrian pre-Alps! The Kasberg is not only popular with downhill skiers. Ski tourers also appreciate the diversity of this mountain.
From the Brunnental car park at 549 metres, you climb to the summit of the Kasberg at 1726 metres. Overall, the tour takes about 5 hours, while you cover a distance of almost 16 kilometres. You will be rewarded with great views and a varied ascent!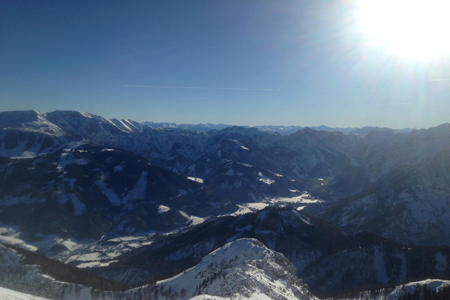 Ski tour on the Kleinen Priel – difficult
This tour is not for beginners because it demands quite a bit of fitness and technique. For advanced tourers, however, the fantastic scenery of the Toten Gebirge offers a unique experience.
The route stretches from Hinterstoder at an altitude of 583 metres up to the summit of the Kleine Priel at 2133 metres. After the approx. 4½ hours of ascent with almost 1600 vertical metres and over 15 kilometres, however, you can expect a breathtaking view!
Safety when ski touring
What is valid for downhill skiing is also essential for ski touring: safety first! Be sure to inquire about possible on and off-piste rules and backcountry hazards prior to your ski tour. A good preparation including thorough planning of the tour is essential. This includes, under all circumstances, basic knowledge about avalanche situations, checking out snow and weather situations and, of course, the appropriate equipment. It´s not for nothing that touring skis were developed; especially for backcountry adventure. Or even models with features such as smooth running and stability, a highlight rather for the run back down the valley. The right binding, comfortable boots and a well-groomed skin for good grip on the climb also guarantee safety during ski touring. Above all, one thing must always to be heeded: never venture in alpine backcountry without emergency equipment!
Packing list for your ski tour
So that you really have the right equipment for your ski tour, we have put together a few guidelines for your packing list.
Clothing
sports underwear
socks
shirt and/or T-shirt
mountain or ski touring pants
fleece jumper or fleece vest
anorak and over-trousers/skirt as moisture, wind and cold protection
thin gloves and warm (outer) gloves
beanie
Emergency equipment
avalanche backpack with airbag system
avalanche transceiver
avalanche shovel
probe
mobile phone with stored emergency number (Euro emergency no.112 or Alpine emergency no.140)
first-aid kit
bivouac sack
Equipment
ski touring boots
ski touring skis with appropriate touring binding
climbing skins and possibly crampons for icy passages during ascent
ski/telescopic poles
sunscreen
sunglasses (with 100% UV protection)
map for orientation or GPS device (with spare batteries)
altimeter
drinking bottle (at least 1 litre)
enough food for on the way
headlamp
tools
For beginners in the attractive winter sport of ski touring it is recommended, among other things, to complete courses in which you learn the basics of the sport. Follow the call of the mountains and experience nature even closer and more intensely!