©
Salzburger Saalachtal Tourismus
Up to -20% discount on online bookings!
Lofer Ski Hire
Your SPORT 2000 dealer is located directly in Lofer.
Lofer
Almenwelt Lofer Ski Resort
Experience the incredible variety of Pinzgau's Saalachtal Valley in the region of Salzburg – visit the famous winter sports destination of Lofer and enjoy an active winter holiday. Treat yourself to some personal time-out and visit the Almenwelt Lofer Ski Resort. Family friendliness is not only important on the slopes. The numerous guesthouses and hotels are also partly specially designed for families.
Lofer
In the Almenwelt Lofer Ski Resort, ten lifts take you up to 1,747 metres above sea level. From the mountain station you have a breath-taking view of the Loferer Steinberge, the Reitheralpe, the Leoganger Steinberge, the Wilder Kaiser and the Chiemgauer Alps. Enjoy the 46 kilometres of cultivated pistes that run through the beautiful alpine world. The ski resort offers something for every taste. The fun park has many exciting obstacles and is especially popular with snowboarders and freeskiing fans. In the Kinderland, the little ones get their money's worth and the fantastic pistes offer a lot of fun for all winter sports enthusiasts.
©
Salzburger Saalachtal Tourismus
Book online now
Our rent shops
Location rating Lofer
Ski Hotspot in Salzburg
©
Salzburger Saalachtal Tourismus
©
Salzburger Saalachtal Tourismus
©
Salzburger Saalachtal Tourismus
Salzburg
Ski holidays in the Almenwelt Lofer
Enjoy relaxation and pure winter fun. Whether you simply want to spend a weekend in the mountains or you are planning a ski holiday for several days, surrounded by the Loferer and Reither Steinbergen mountains, this popular winter sports destination offers a breath-taking view of impressive mountain ranges and natural winter landscapes. Located in the middle of the Saalachtal Valley, Lofer inspires countless winter guests with its commendable quality standards. Excellent hotels and ski-hire stations ensure a perfect stay. The ski resort on the Hochalm offers guaranteed snow and variety.
If you and your family are looking for peace and quiet away from the slopes, there are many other possibilities for a varied winter holiday in Lofer. How about cross-country skiing or snowshoeing? At the Lofer ski hire, "Skischule Lofer Rent a Ski & Board", you can get cross-country skis or snowshoes in addition to first-class ski and snowboarding equipment. You can use these on the approximately four-kilometre-long cross-country skiing trail. The trail starts at the Restaurant Schönblick and runs partly in parallel to the circular hiking trail, which you can walk on snowshoes even in the deepest winter. There is also something for adventurers. Have you ever tried snowkiting? When snowkiting, you go down the slopes on skis with a kite glider. The "Skischule Lofer Rent a Ski & Board" ski hire also has the right equipment for this.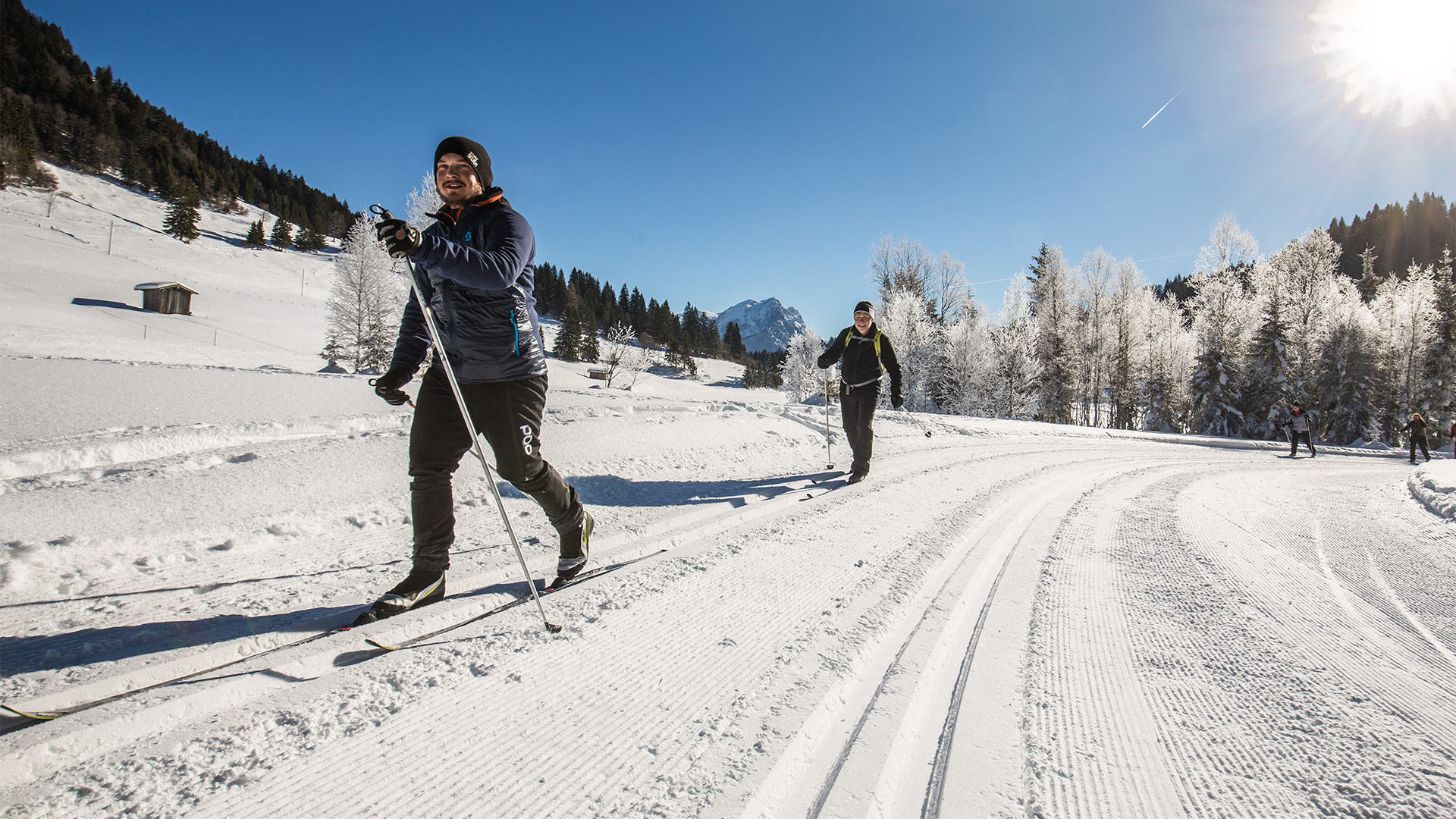 Skischule Lofer Rent a Ski & Board in the Almenwelt Lofer Ski Resort
Lofer Ski Hire
Lofer Ski Hire offers winter sports equipment for children, teenagers and adults. Hire best prepared equipment from the "Skischule Lofer Rent a Ski & Board" ski hire and whiz down the varied, fog-free slopes of Lofer. Our SPORT 2000 rent Lofer ski hire takes the time for your individual needs and advises you comprehensively. Your feet will be measured with the most modern equipment so that you will be safe in your ski boots. There is a depot for your equipment at Bergbahn II. So that you don't have to change outside, a separate changing room is available.
Have you never been on skis or a snowboard? Or has it just been a while? Then the Almenwelt Lofer is the place for you. The family-friendly slopes are particularly suitable for beginners. In addition, the local ski school also includes the ski hire "Skischule Lofer Rent a Ski & Board", meaning there's no need to worry about equipment and experience in winter sports beforehand. "Skischule Lofer Rent a Ski & Board" Ski Hire offers you high-quality ski equipment and qualified ski instructors - so you can hire skis for your first winter sports holiday and quickly improve your skiing skills with high-quality equipment and trained staff. SPORT 2000 rent wishes you a wonderful ski holiday in the Almenwelt Lofer.