©
Tourismusverband Obertauern
Up to -20% discount on online bookings!
Obertauern Ski Hire
Your SPORT 2000 dealer is located directly in Obertauern.
SPORT 2000 GEFÄLL OBERTAUERN

5562 Obertauern, Römerstrasse 61

Array

Hire period: 01.12.2023 - 30.04.2024
SPORT 2000 GEFÄLL OBERTAUERN

5562 Obertauern, Römerstrasse 61

Array

Hire period: 01.12.2023 - 30.04.2024
Beautiful winter paradise
Obertauern Ski Resort
Around the summit of the Radstädter Tauern Pass, you will find everything a skier's heart desires. Spend an unbelievable stay in the Obertauern region and forget the annoying stress of everyday life. Take a break in the beautiful winter paradise and do something good for your body.
Here you can expect:
Fulminant fun on the slopes
Guaranteed snow from November to May
Modern lifts
Expert advice
Friendliness and competence
Obertauern
The winter paradise of Obertauern lies in the Radstädter Tauern and offers 100 fantastic kilometres of pistes for every taste. Climb the summit with one of the 26 lifts and enjoy long descents.
of cross-country ski runs
©
Tourismusverband Obertauern
Book online now
Our rent shops
Location rating Obertauern
Ski Hotspot in Salzburg
©
Tourismusverband Obertauern
©
Tourismusverband Obertauern
©
Tourismusverband Obertauern
Obertauern
SPORT 2000 Gefäll
Whether beginner or experienced skier, the Obertauern Ski Hire offers the perfect equipment so you can enjoy the guaranteed snow on the slopes to the max. With its good infrastructure, from a modern network of versatile lifts and gondolas, the high-altitude ski resort offers the best conditions for untroubled skiing pleasure. Or have you always wanted to try your hand at cross-country skiing? The ski hire in Obertauern has the ideal equipment for you to explore the 26 varied kilometres of cross-country skiing trails in the ski resort.
Conquer the fantastic slopes with freshly waxed quality equipment from the ski hire in Obertauern. Our SPORT 2000 rent ski-hire experts, SPORT 2000 Gefäll, offer comprehensive advice on all things equipment, safety and technology. Of course, the quality equipment is specially tailored to your individual needs by qualified ski-hire staff to enhance your personal skiing experience. Enjoy a ski holiday as written about in the guidebooks. Perfectly groomed cross-country skiing trails for genuine cross-country specialists and two great toboggan runs provide variety off the slopes.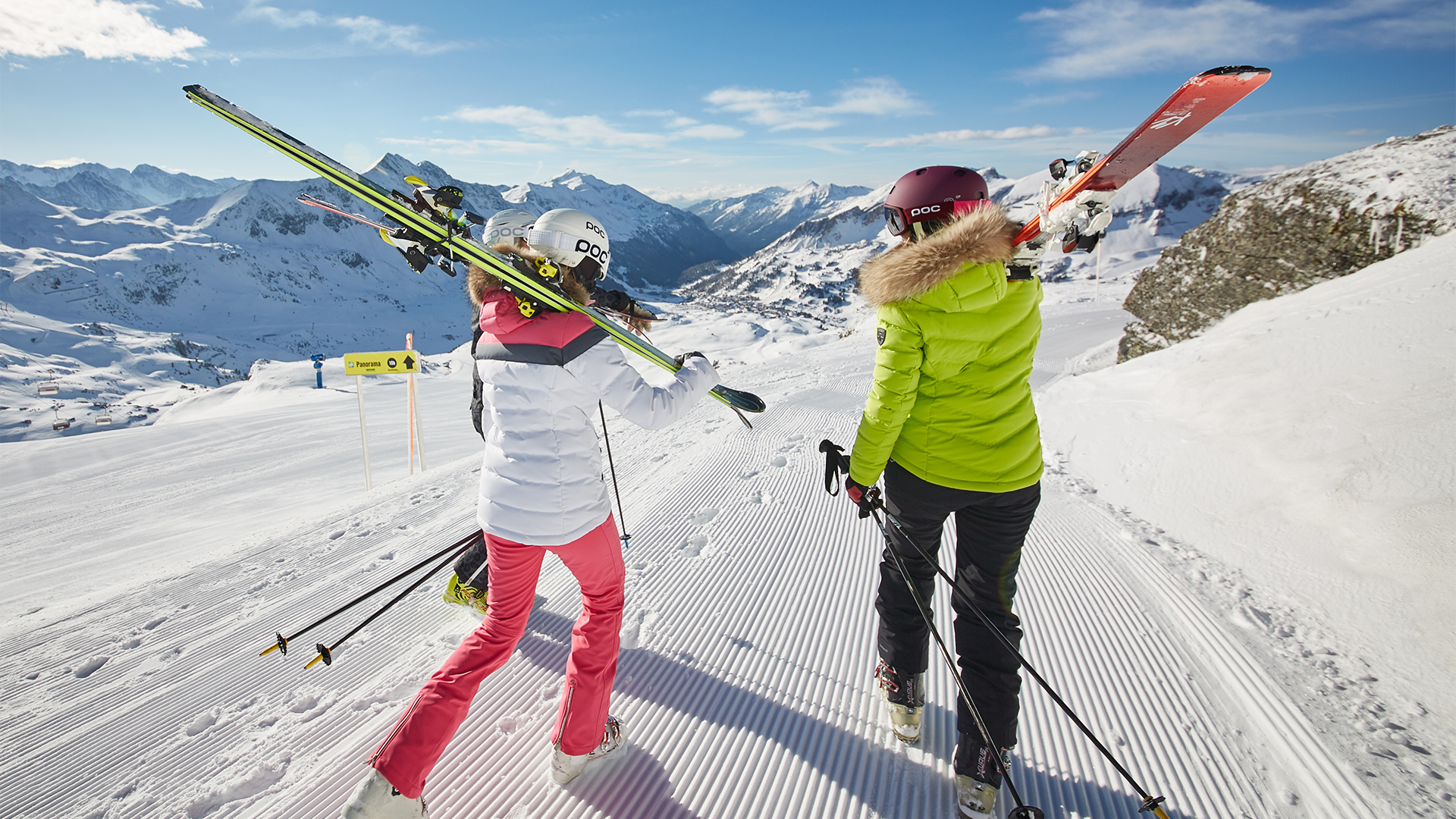 Winter holidays
Obertauern Ski Resort
Hire well-maintained equipment at SPORT 2000 Gefäll Ski Hire and enjoy full skiing pleasure on the varied slopes of Obertauern. Sunny slopes, powder-snow pistes and the famous Tauernrunde make the Obertauern Ski Resort unique. Use the professional SPORT 2000 rent ski-hire service in Obertauern and save your nerves with a carefree journey here.
The cool fun park with its many different obstacles is tempting for snowboarding aces and beginners. Cleared, beautiful hiking trails lead you through the untouched nature in its white winter coat. Also use the extraordinary Skidoo toboggan taxi, which chauffeurs you up the mountain with 120hp and has real fun factor. Varied, exciting and wintry – this is what you can expect from a stay in Obertauern.