Up to -20% discount on online bookings!
Galtür Ski Hire
Your SPORT 2000 dealer is located at the Dorfplatz in Galtür, Tyrol.
Galtür Ski Resort
Winter wonderland at Silvapark
The sunny, first-class mountain scenery promises a wonderful and relaxing stay in the blue and white wintery dream landscape. The nearby Silvapark Galtür Ski Resort attracts thousands of guests to the beautiful Tyrolean ski region every year with a high snow guarantee and admirable family friendliness.
Galtür
The highest point of the Silvapark Galtür is 2,297 metres above sea level and can be reached with one of the ten modern lifts. 43 kilometres of pistes of varying degrees of difficulty reveal themselves to those visiting the famous Silvapark.
Location rating Galtür
Skiing area in Tirol
Galtür
Winter experience for everyone
The Silvapark Galtür is the highest ski resort in the Tyrolean Paznaun Valley – and has a lot to offer. The ski resort is most accurately described by the words family-friendly, exciting and guaranteed snow. Enjoy a nice family holiday and leave your tracks in the snow. Ski beginners can experience a relaxed and scenically beautiful route on the three-kilometre-long valley descent. The Ballun descent brings ambitious ski professionals to their limits. Almost 26km of slopes are marked in red and therefore perfectly suited for hobby skiers.
Snowboarders and freeskiers should only face the numerous snowparks in the Silvapark Galtür with professional equipment. Because good equipment stands for safety. Protect yourself and your family with certified ski and snowboard equipment from the renowned ski hire in Galtür. For passionate deep-snow skiers, the ski resort offers 20 kilometres of different deep-snow routes. Huts and bars provide visitors to Silvapark Galtür with all the amenities their heart desires. Enjoy numerous tasty delicacies along the slopes. Beautiful cross-country skiing and hiking trails provide cross-country skiers with relaxing off-piste activities. The ski safari is a special experience, which enables experienced winter sports enthusiasts to leave the Paznaun Valley via the Bielerhöhe with expert guidance. The descent leads to Montafon, from here you can take the ski bus back to Galtür. All in all, Galtür is a recommendable winter destination and really worth a visit.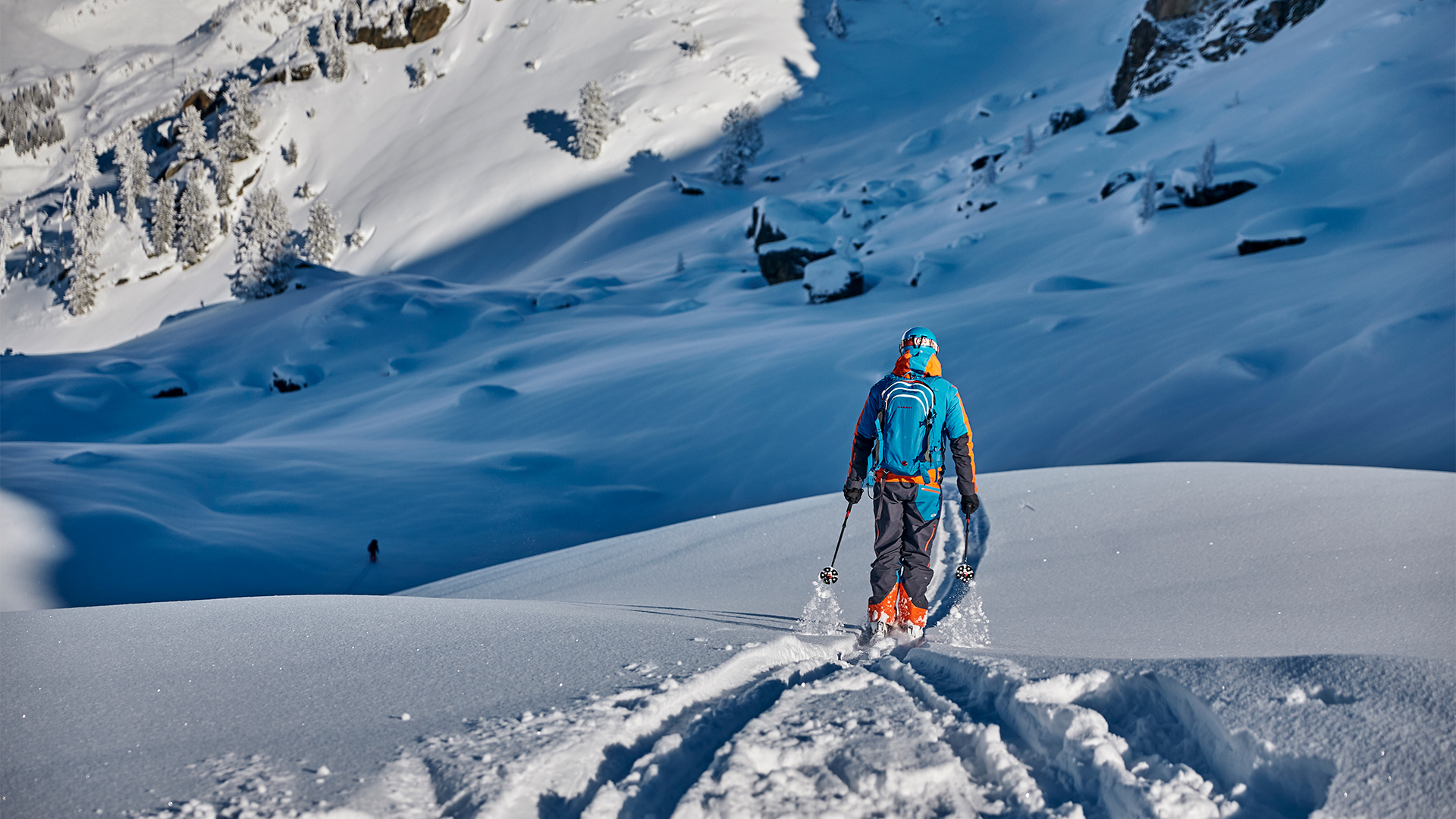 Complete service
Galtür Ski Hire in Tyrol
Good piste conditions and freshly maintained ski equipment are the best prerequisites for endless piste fun. In the midst of countless three-thousand-metre peaks, you will find superlative service. Not only do beautiful hotels and guesthouses score with first-class quality and hospitality, the equipment in the ski hire also reflects the high standard of Galtür. Up-to-date and modern equipment, perfectly tailored to your individual needs, can be hired from our ski-hire partner at favourable rates. Perfect your skiing days and treat yourself to quality equipment from our SPORT 2000 rent Ski Hire in Galtür.
Advice, service and passion – this is what makes a SPORT 2000 rent Ski Hire so special. Our SPORT 2000 rent ski-hire partners act on the basis of this philosophy and are happy to help you when it comes to winter sports. In addition to a test centre for skis and snowboards, you will also find a shoe depot in the Galtür Ski Hire where you can change your clothes in a relaxed way. Children also hire the equipment free of charge at our Galtür Ski Hire in Tyrol – including helmet. In addition to skis and equipment, the shop also offers a wide range of exclusive ski clothing. Enjoy your stay in the idyllic winter sports destination of Galtür in the Tyrolean Alps.