©
Erste Ferienregion im Zillertal, Andi Frank
Up to -20% discount on online bookings!
Ski rental Kaltenbach in Zillertal
Your SPORT 2000 dealer is located directly at the ski lift in Kaltenbach.
SPORT 2000 RENT UNTERLERCHER

6272 Kaltenbach, Postfeldstraße 34

Array

Hire period: 15.12.2023 - 05.04.2024
SPORT 2000 RENT UNTERLERCHER

6272 Kaltenbach, Postfeldstraße 34

Array

Hire period: 15.12.2023 - 05.04.2024
Skiing area Skizentrum Hochzillertal
skiing holiday with the whole family
The popular winter sports resort Kaltenbach in Tyrol is located in the middle of the Zillertal, directly at the modern skiing area Ski-Optimal in the Hochzillertal. Spend an exciting skiing holiday together with your family in the magnificent mountain landscape of the Zillertal. In addition to family-friendly pistes, this beautiful resort also has plenty to offer professionals and snowboarders. You can easily rent your skis at the SPORT 2000 Unterlercher ski rental in Kaltenbach. The location at the Hochzillertalbahn valley station allows you to start your skiing fun immediately.
Kaltenbach in the Hochzillertal
Fun on the slopes and fun in the huts are the order of the day in the Zillertal. Fantastic sunny slopes and varied activities make the ski centre Ski-Optimal Hochzillertal the skiing area it is today. Numerous slopes suitable for beginners allow for a relaxed winter holiday with the whole family. Experts use the race track or visit the fun park with natural half pipe and its own lift.
©
Erste Ferienregion im Zillertal, Andi Frank
Book online now
Our rent shops
Location rating Kaltenbach
Skiing area in Tirol
Let yourself be convinced by Kaltenbach and its skiing area
©
Erste Ferienregion im Zillertal
©
Erste Ferienregion im Zillertal, Andi Frank
©
Erste Ferienregion im Zillertal, Andi Frank
©
Erste Ferienregion im Zillertal, Andi Frank
90.7 kilometres of snow-white pistes
Ski Centre Ski-Optimal Hochzillertal
More than 90 kilometres of pistes guarantee a fantastic skiing holiday in snowy Kaltenbach in Tyrol. At over 2,300 m above sea level, you get a fabulous view of the Zillertal Alps. Enjoy traditional dishes at one of the many ski huts and relax on the inviting sun terraces. Then head back down to the valley on the Stephan Eberharter gold piste. Around 30 km of blue slopes ensure that families with children as well as beginners can experience skiing pleasure in a class of its own. Three conveyor belts are also available. The 39 ski lifts reliably take you to the route of your choice. The direct connection to the Hochfügen ski area opens up a paradise consisting of 93 additional kilometres of pistes.
Advanced and professional skiers can let off steam in the Hochzillertal on over 40 km of red and almost 15 km of black pistes. Away from the groomed terrain, there is also plenty to discover. Guided ski tours in untouched deep snow make it possible to experience the Kaltenbach ski area in the Zillertal in an unforgettable way. Whether beginner or experienced skier - the well-trained guides choose the right route for everyone. If you want to rent your ski equipment, you are in perfect hands at the ski rental SPORT 2000 Unterlercher directly in Kaltenbach.
Skiers and snowboarders looking for fun and excitement should visit the Betterpark. Freestylers can try out lines of different difficulty levels and then watch the other riders in the spacious chill-out area with good music. The fun park, right next to the Schneeexpress chairlift, also has its own lift and a natural halfpipe.
Kaltenbach ski hire
convenient ski hire
If you want to save space in your car or travel by public transport for the sake of the environment, you will find the SPORT 2000 ski rental Unterlercher directly at the valley station in Kaltenbach. New, technical innovations for experienced skiers are available as well as classic skis and snowboards. Thanks to top brands such as Atomic, Fischer or Burton, winter sports at the highest level are guaranteed.
Benefit from numerous advantages and an optimal price-performance ratio. The rental shop also offers good quality skis for small budgets. You already know which equipment you would like to have before you arrive? Then book conveniently in advance and get up to 20% online discount thanks to the SPORT 2000 rent online guarantee. This saves you money and in return you get perfectly maintained, state-of-the-art equipment. Excellent service included. Take advantage of the opportunity to pick up your skis in the shop the day before and hit the freshly prepared slopes the next morning. If you don't feel completely comfortable with your choice, you can exchange your rental product within the same category free of charge.
In addition to renting ski and snowboard equipment, it is also possible to rent cross-country and touring skis in the shop. Toboggans and snowshoes for fun family activities round off the offer. Highly trained staff at the Unterlercher ski rental shop will be happy to advise you on choosing the right equipment.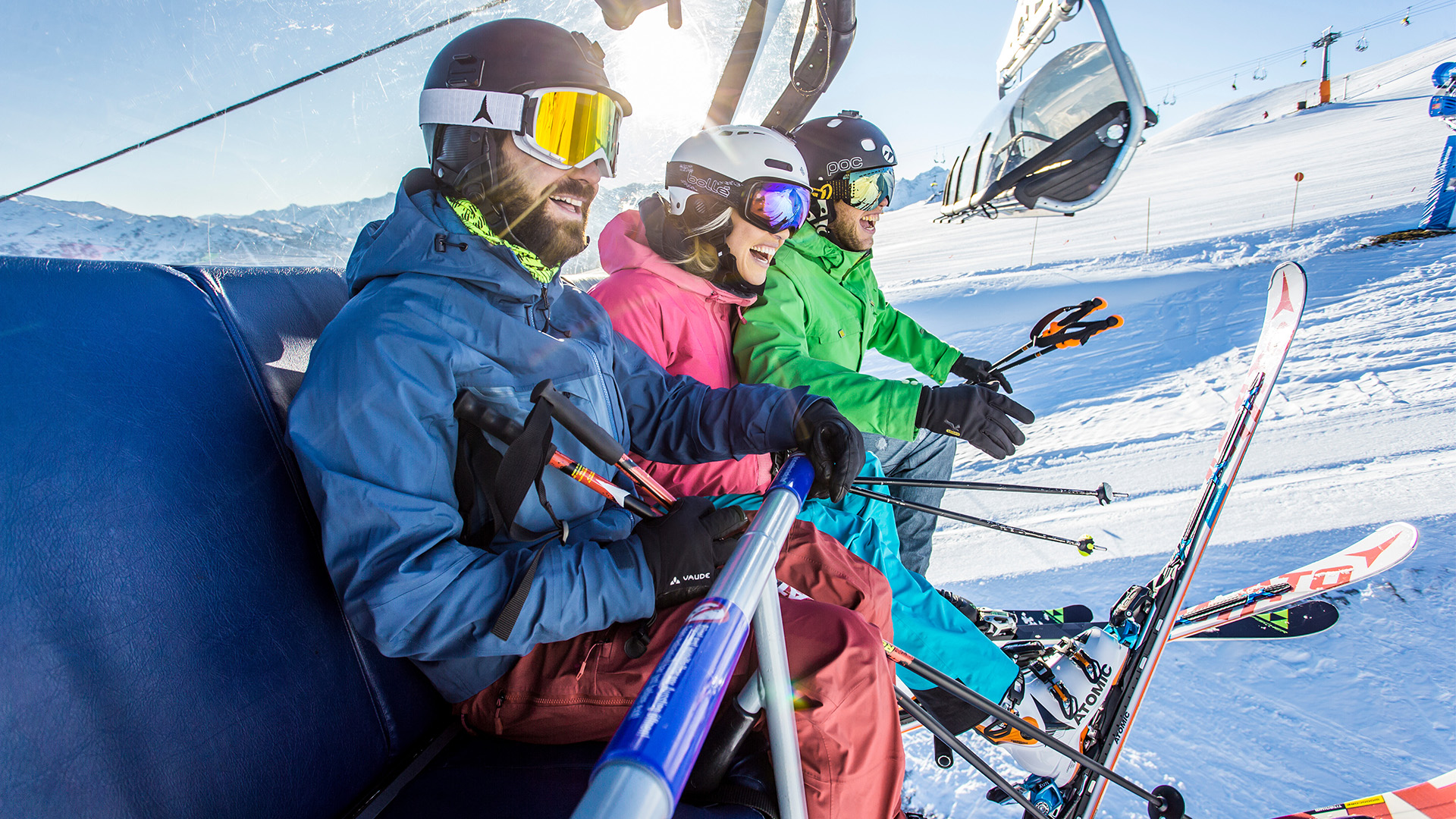 Fun for the whole family
Kaltenbach Ski Resort in the Zillertal Valley
Whether big or small: everyone gets their money's worth in Kaltenbach in Tyrol. Family-friendly hotels and numerous slopes suitable for beginners ensure a relaxed holiday. At the Mountain View mountain station there is a special service: the "Zwergerl Club", a guest kindergarten. By appointment, the little ones can warm up inside and play with other children while their parents enjoy a few more runs.
Several ski schools with well-trained instructors ensure that the introduction to skiing is successful and that one's own skills are developed even further. Thanks to the conveyor belts, even the little ones can safely climb the slopes and make their first turns under supervision.
For school classes, the ski rental SPORT 2000 rent offers a special deal. Pupils and teachers can rent ski equipment at a special price during school ski courses. Helmet included, of course, because safety first.
Kaltenbach in Tyrol
Winter holiday in Hochzillertal
The beautiful Kaltenbach in the Zillertal is not only suitable for a skiing holiday. The village in the district of Schwaz also has a lot to offer off the slopes. At the summit of the Wimbachkopf there is a challenging winter climbing route - breathtaking panoramic views guaranteed. You need about half a ski day for the route. Climbing and avalanche equipment can be rented on site.
Several toboggan runs offer fun and excitement - the longest is over 5 kilometres. Different levels of difficulty provide fun for beginners as well as experienced tobogganers. You can easily rent your toboggan at the ski rental SPORT 2000 Unterlercher. If you are looking for a special thrill, you can also go paragliding in the beautiful winter landscape. A ride on a horse-drawn sleigh is also a great way to explore the Zillertal.
If the weather doesn't cooperate at all, a visit to KABOOM Kaltenbach - a leisure centre with numerous attractions - is worthwhile. In addition to a bowling alley, you can also use the trampoline park or try your hand at bouldering. Young and old will definitely not get bored here.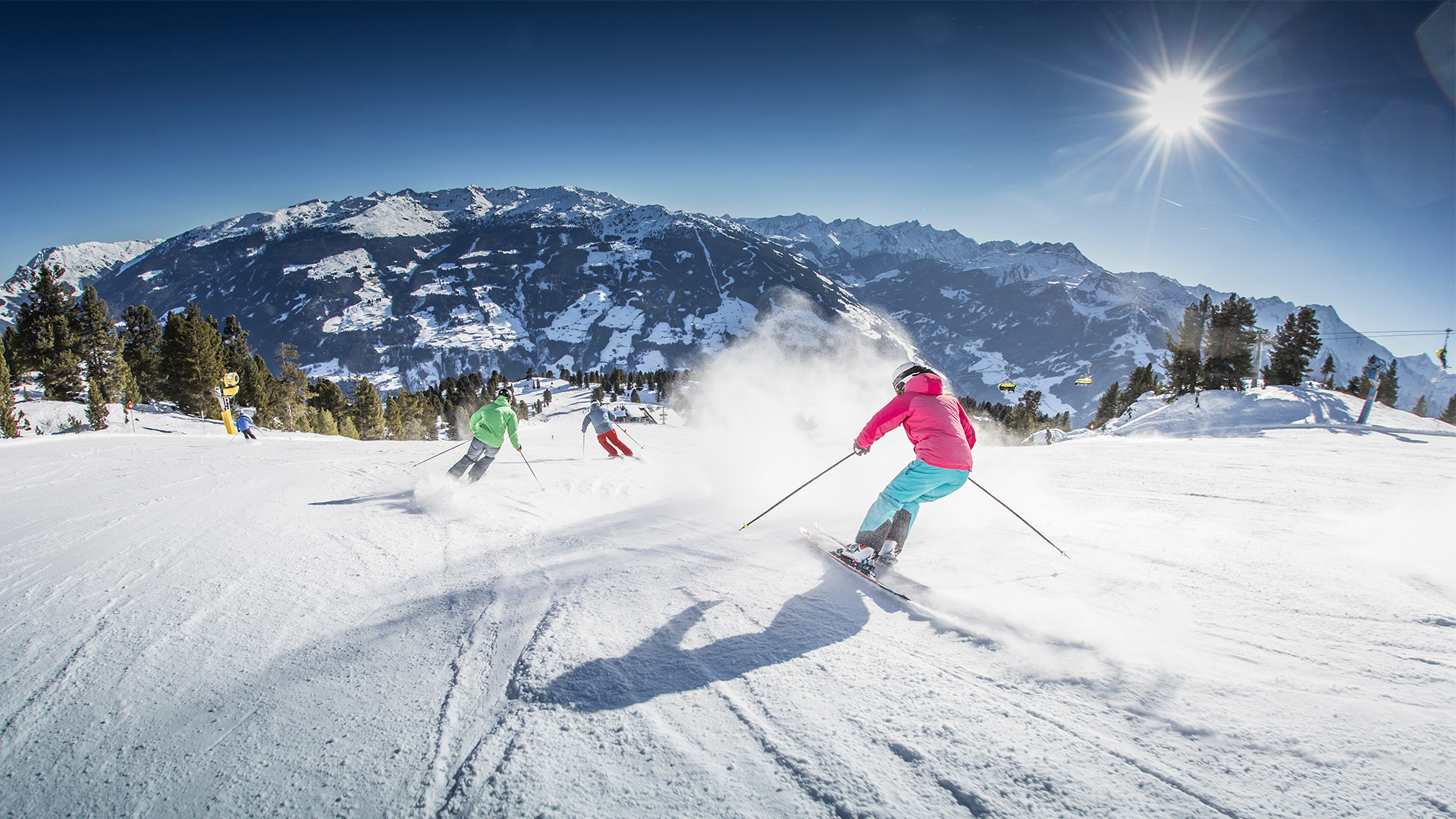 Skiverleih Kaltenbach - Frequently Asked Questions
Where can I rent skis in Kaltenbach in the Hochzillertal?

Your SPORT 2000 dealer is located directly at the ski lift in Kaltenbach:

Ski rental SPORT 2000 RENT UNTERLERCHER
Postfeldstraße 34
6272 Kaltenbach
Tyrol

Where is the Kaltenbach ski area in the Zillertal?

Kaltenbach in Hochzillertal belongs to the district of Schwaz in Tyrol and lies in the middle of the Zillertal Alps. The distance to Innsbruck is around 60 kilometres. In addition to the car, you can also reach the skiing area by public transport, for example by bus or with the Zillertal Bahn. Travel light and take advantage of the possibility to rent your equipment at the SPORT 2000 Unterlercher ski rental. It is located directly at the Kaltenbach valley station.

What does a winter holiday in the Kaltenbach Ski Centre in Hochzillertal offer me?

A winter holiday in Kaltenbach could not be more varied and offers fun and entertainment for the whole family. In addition to winter sports like skiing and snowboarding, you can also go cross-country skiing, curling, paragliding or spend a day in the amusement park. A snowshoe hike is also possible, as is exploring the dreamlike area by horse-drawn sleigh. Traditional dishes and top culinary performances ensure enjoyment in a class of its own. For relaxation, visit one of the wellness hotels and spas.