The perfect family skiing day
Helpful tips for skiing with children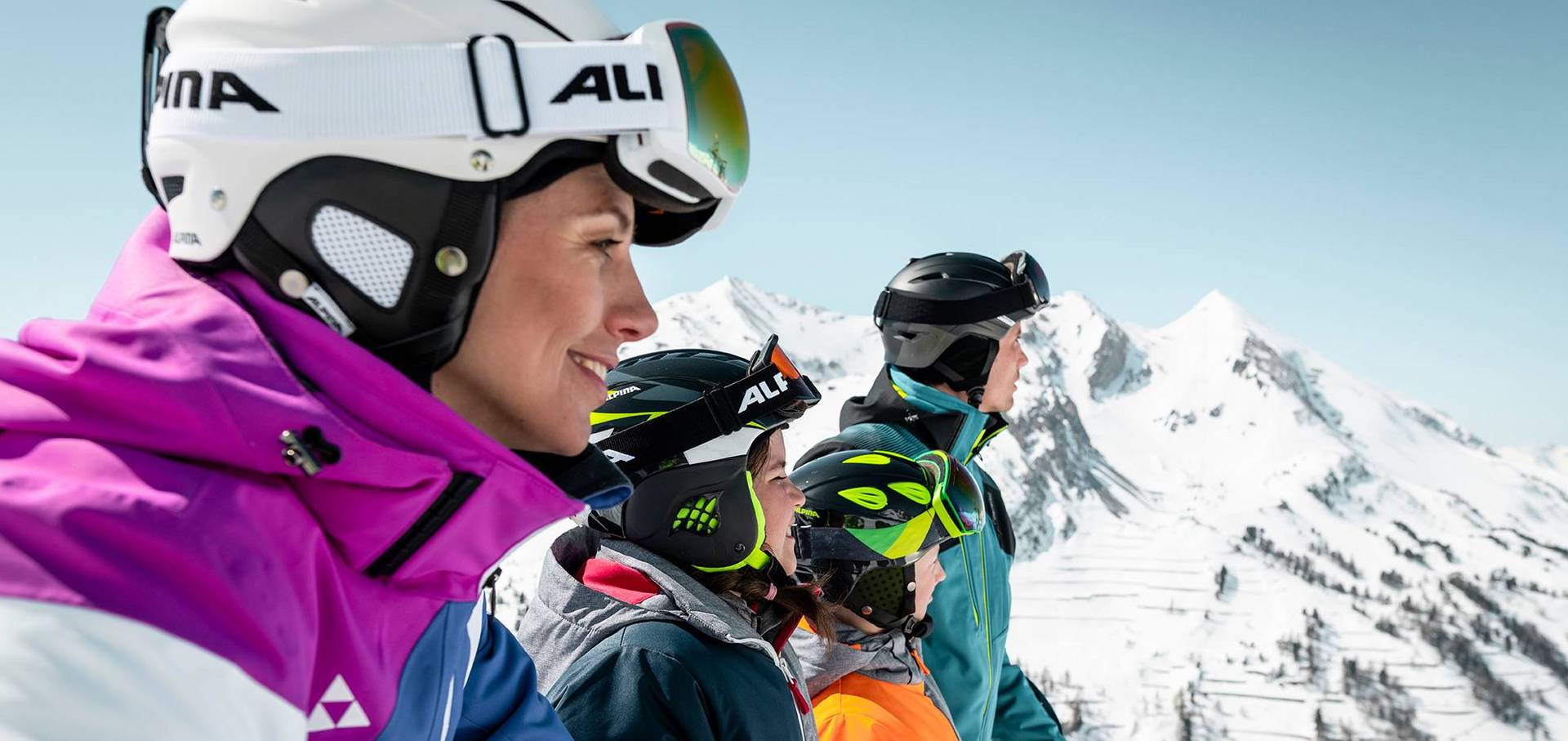 Introduction
Winter is here and finally, planning the first family ski day of the season is in full swing. Skiing with children: numerous questions arise in preparation for the ski trip. Does the equipment still fit? Where did we put the ski helmets for the children? What ski resorts are family-friendly? And how can you save money when skiing? Here you will find out!
The right equipment for the family ski day - does everything still fit?
Before packing the winter sports equipment, one should check, especially for children, if it still fits. Children grow quickly and the clothing size, shoe size and the head circumference can change quickly from one winter to the next. Therefore, check the equipmentfor completeness and perfect fit in good time before the family ski day. This includes the following items:
Ski helmet
Ski- boots and skis
Ski poles (the length of the ski poles should be ¾ of the skier´s height)
Ski pants and jacket
Ski socks
Gloves
Thermal underclothing
Ski goggles
Scarf, bandana

If the boots and skis still fit, you should have the edges sharpened and skis waxed before the trip (book in at your ski shop at least a week before) so that they can really enjoy the descent.
If the equipment no longer fits, you have two options: Either you buy new skis, boots and poles or you rent them at the local ski rental. Especially if you have children, it is very advisable to rely on the service of a perfectly-equipped ski rental on location. This saves you heavy lugging and you have freshly-maintained and state-of-the-art equipment which fits perfectly. Well-prepared equipment not only ensures safety on the slopes, you also save carrying bulky equipment and the sometimes challenging securing of the skis to the car. Take advantage of the local SPORT 2000 rent ski rental equipment for your family ski day. That way you´ll be able to ski down the slopes safely and with a lot of fun.
You should also consider these things when skiing with children
In addition to standard ski equipment, you should also consider the following things for your family ski day:
suncream (the sun is strong even in winter and can quickly lead to sunburn due to its reflection in snow)
Lip care (to be applied before the first downhill run and after the break - to protect sensitive skin)
Tissues/handkerchiefs
Dry clothes for the journey home
ID cards/passports (these are not only necessary at some borders, but also if you want to take advantages discounts on the spot and need to identify yourself) e.g. locals, family or children's discount.
Cash for the huts and, if necessary, ski passes (cannot be paid by card everywhere)
If applicable: back protectors
Snacks such as muesli bars and dextrose for an energy boost or as a small reward in between (can easily be stored in a jacket pocket)
Ski helmets - compulsory in these countries
Even if the wearing of a ski helmet is compulsory for children and adolescents up to 16 years only in countries such as Austria, Italy, Croatia, Slovenia and Poland, it is also recommended that children in all other countries use a ski helmet when snowboarding and skiing. A helmet is not only highly recommendable for children; adults too, should wear a helmet. After all, it's not just about your own skill and safe skiing; on days with many visitors there are so many people underway on the slopes that a collision can come very unexpectedly. With a helmet, you and your children are always on the safe side - also in avoiding a fine of up to 200 euros if you violate the helmet law. If you do not have a ski helmet at home, you can rent it at one of our ski rental partners on location.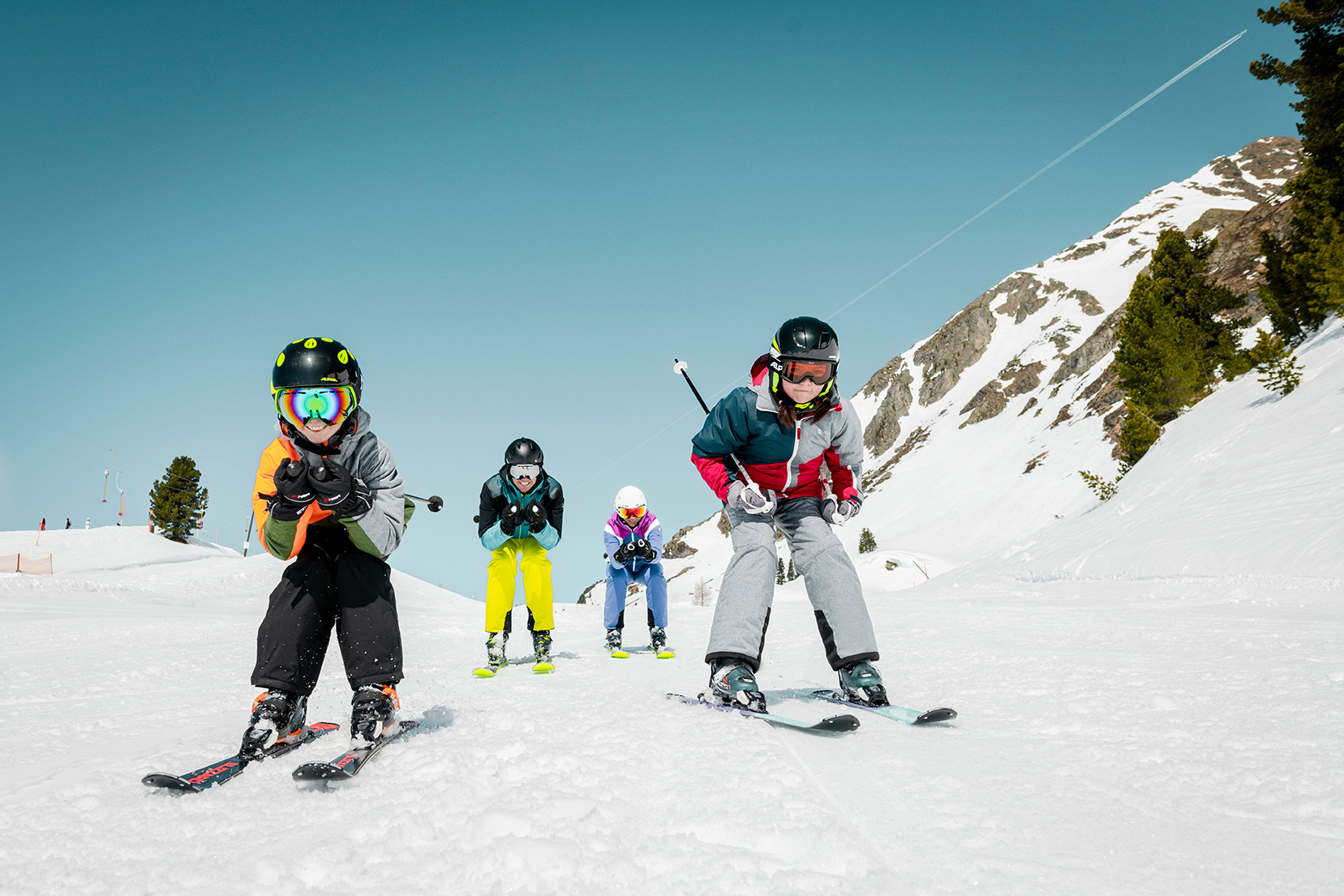 The right ski area for your family ski day
It does not matter if you want to go skiing in Germany, Switzerland or Austria. When planning your family ski day, you should make sure that the ski area is not further than one and a half hours away. If you have children with you, it can become exhausting if the children get impatient. In addition, you should start early; at many ski resorts the roads are jammed just before the lifts open. Also take care that your children are not too warmly dressed in the car. Jacket, ski pants, cap and scarf can also be donned when you get there.
If it is the first family ski day of the season and you want to go skiing with your children, you should look for a ski area with many blue slopes, so that you and your children can reorientate to skiing on simple slopes. In the Alps, the following ski resorts are among the most family-friendly:
Almenwelt Lofer in Austria: 46 kilometres of slopes, 31 km blue
Mitterdorf in the Bavarian Forest: 10 km of slopes, 5 km blue
Serfau-Fiss-Ladis in Tyrol: 196 km of slopes, 47 km blue
Pizol in Switzerland: 40 km of slopes, 20 km blue
Younger children also have a lot of fun where there are special children areas where they can playfully learn to ski and colourful mascots provide for fun.
Take advantage of special family offers and save money
Skiing with children can be a costly endeavour. But if you take a few things into account when planning your family ski day, you can save money.
Use the local ski rental
Do not buy a new kit every year will not fit your children next year. You can rent them at the local ski rental.
Use discounts and half-day passes
In many ski resorts there are family ski passes, which are cheaper than single ski passes. Or you can make use of special children's discounts, which are granted depending on the region up to a certain age.
When skiing with very young children a half a day is often more than sufficient. In many ski resorts there are morning tickets or even hour tickets with which a lot of money can be saved. As a rule, you can then ski until about 1 pm or for 4 hours, which is enough for the first day of skiing in the season.
Bring your own food and beverages
If you want to save money while skiing with children, it is recommended not to eat in the overpriced mountain huts, but to bring your own lunch and snacks. A warming tea in a thermos can and a delicious meat or cheese sandwich provide for a small refreshment in between and are considerably cheaper than a schnitzel in the hut.
This will make the family ski day a success
If you plan the ski trip with the family in time, have the right equipment, choose family-friendly ski resorts and take our savings tips into consideration, skiing with children will surely be a complete success. SPORT 2000 rent wishes you and your children a lot of fun on the slopes.