Introduction
Snow that magically shines and glitters in the sunlight. A cool breeze blowing through your face. And probably the most magnificent winter landscape around you. Snowshoeing is enchanting more and more winter sports enthusiasts. Let yourself be carried away by the spell of winter hiking on snowshoes - and explore the most beautiful regions of Austria on light foot!
When it gets cold in Austria and the wonderful white flakes fall from the sky, many locals and guests are drawn back to the country's ski slopes year after year. But you don't necessarily have to be on skis or a snowboard to experience Austria from its dreamy, wintry side: We also offer a wide variety of regions that invite you to go snowshoeing. Away from the ski slopes and surrounded by peaceful nature, you will always find the right adventure.
Leave the hustle and bustle of everyday life behind you and enjoy winter in all its splendour and naturalness. Away from the hustle and bustle in the ski resorts and on the groomed slopes, you can clear your head.
You can enjoy hiking in the snow alone, on a guided tour with experts or on a snowshoe tour with the whole family.
Whether hiking around a picturesque mountain lake, through deep snow-covered valleys or up to 3,000-metre-high peaks - full enjoyment awaits you on a snowshoe hike through Austria's magnificent landscape.
Snowshoeing is a sporty and at the same time pleasurable trend that has enjoyed increasing popularity, especially in recent winters - also due to the Corona pandemic and numerous lockdowns. It's much more than just trudging cross-country through the snow. With snowshoes you can explore the picturesque winter world of the Alps!
Anyone who has ever enjoyed snowshoeing knows: it is simply wonderful to trudge step by step through the shiny powder snow. Walking like on clouds - and that in the middle of Austria. But where are the most beautiful routes for snowshoe hiking? Which federal provinces are particularly suitable for this winter hobby? And what do you have to bear in mind when snowshoeing? Our blog article will tell you all about it!
The most important tips for snowshoeing
In order to be able to fully enjoy the pleasure of deep snow, there are a few basic things to consider when snowshoeing. First and foremost, you should wear sturdy shoes. It is best to strap your snowshoes to winter-proof hiking or mountain boots.
When choosing the right snowshoe - whether rented or bought yourself - the golden rule is: the bigger the snowshoe, the less you sink in deep snow. If you are planning a tour in steeper terrain, we recommend smaller snowshoes. In general, the snowshoe binding can be opened and closed with a quick-release fastener. In addition to the right footwear, poles are also highly recommended if you are planning a tour in deep snow: Ideally, you should use adjustable telescopic poles with large snow cups.
For complete equipment you now need:
Sun cream with high UV protection
Sunglasses
a well-insulated thermos flask
more food
a first aid kit with a warming blanket
For larger and somewhat riskier tours, it is advisable to carry an avalanche kit - consisting of an avalanche transceiver, shovel and probe.
To-do list for snowshoe hiking
Although snowshoeing is generally suitable for all fitness levels and ages, there are some to-dos that you should definitely consider when planning a perfect snowshoe hike:
Plan your snowshoe hike carefully.
If you are still a beginner in this winter sport, you should prefer a route with low differences in altitude and increase from tour to tour.
At the Austrian Alpine Association you can find more helpful information about safety during winter sports activities such as snowshoeing.
Observe the weather and the avalanche danger in advance of your snowshoe hike.
Choose the right equipment and stow it in a backpack that will not interfere with your snowshoeing.
Find out the correct technique in advance.
In general, you should move naturally in the snowshoes. You can use and release your poles to help you.
When snowshoeing, be aware of the surrounding nature and wildlife - especially when trudging across the snow.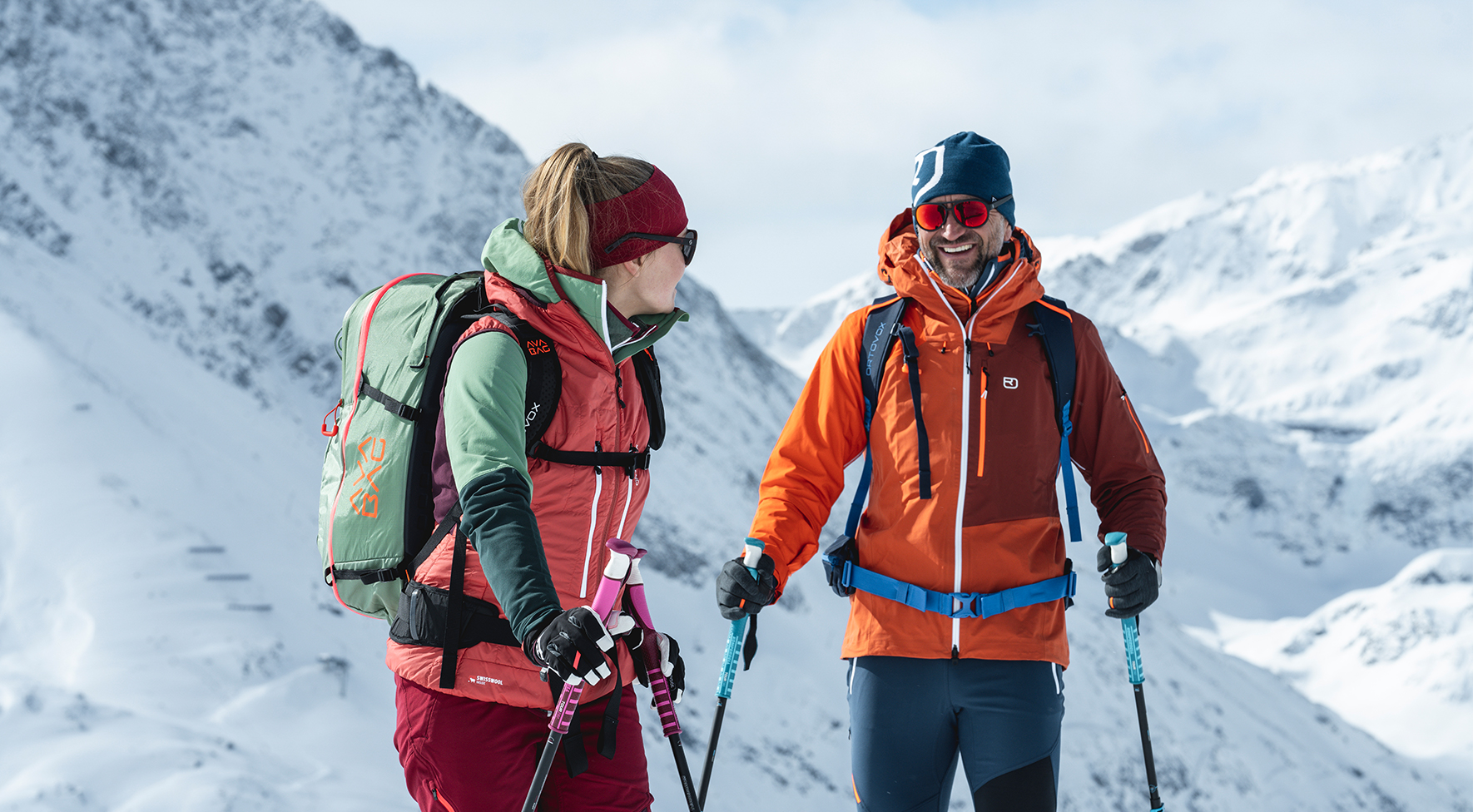 Refreshment stops & other moments of enjoyment while snowshoeing
Of course, the rewards of winter hiking on snowshoes should not be neglected: In addition to the picturesque moments of enjoyment that you experience during your tour in the winter landscape, the stops at the huts are always worth a snowshoe hike.
Whether you stop off to warm up in one of the many huts or to soak up the sun on one of the many terraces in front of them - here you can enjoy the winter sunshine and fantastic views in the Austrian Alps. And there is also plenty of choice for the palate here: In the fresh mountain air, the traditional delicacies at the alpine pastures and huts in the regions taste especially good.
Guided snowshoe hikes in Austria
You want to try a new sport in winter and snowshoeing sounds tempting? Then it is recommended that you go on a snowshoe hike together with a ranger who knows the area. In this case it is quite possible that you will spot one of the "Big Five of the Alps":
Ibex
Golden eagle
Ptarmigan
Chamois
Bearded vulture
The animals don't show themselves too often in the cold season, but especially if you go on a guided snowshoe hike, you have the best chance of encountering one of these Big Five. After all, the highly trained snowshoe hiking guides know their way around the region and know where it is particularly beautiful and wonderfully wintry.
In addition, on a guided snowshoe hike you will also get to know the names of the many peaks and learn more about the surroundings. Whether it's the Großglockner and Großvenediger or one of the many other well-known mountains in Austria - the hiking guides show you on snowshoes what makes the regions and the views around them so special. A pleasant side effect of such a picturesque snowshoe hike: you experience an incomparable feeling of happiness and can leave everyday life behind you for a moment.
The most frequently asked questions about snowshoeing
Frequently Asked Questions
What is the difference between snowshoeing and winter hiking?

When winter hiking, you are usually on the move with classic mountain or hiking boots on cleared or prepared paths. With snowshoeing, on the other hand, you can also reach the open terrain thanks to the support of the snowshoes. You can trudge cross-country through the deep snow and make new paths in the snow-covered, untouched nature.

Why should I go snowshoeing?

Are you an absolute winter fan and want to discover Austria's beautiful nature off the beaten track? Then it's time to buckle up: Your snowshoes, of course, which you can rent easily and without much effort from your SPORT 2000 rent dealer.

When snowshoeing, you will discover particularly beautiful vantage points and the fairytale secret places of the Alpine region!

Stress relief, deceleration and the calming effect of nature are also indisputable arguments that clearly speak for snowshoeing. In addition, snowshoe hiking offers the following benefits:

positive effect on the cardiovascular system
increased fat burning
no need for previous experience
helps to strengthen the immune system
promotes stress reduction

Once you have trudged through the snowy winter world on snowshoes, you are guaranteed to find great pleasure in this special winter sport and set off again and again on new tours.n.

Where can I rent snowshoes?

If you would like to discover the winter world of Austria for yourself away from the sometimes overcrowded ski slopes, you can simply try out snowshoeing: at the rental shops of SPORT 2000 rent, the right snowshoe is waiting to explore the region with you and accompany you safely through the deep snow.

Let the fresh mountain air fill your lungs, trudge comfortably through snowy forests with your snowshoes from SPORT 2000 rent and experience the power and silence of the alpine winter world. Our highly trained and knowledgeable staff will be happy to advise you on the choice of snowshoes and suitable routes in the respective region.

We wish you lots of fun on your next adventure on snowshoes!

If you are still looking for the right snowshoe route, you can find inspiration in our blog article "Snowshoeing in Austria: The most popular regions" (insert link if live)!