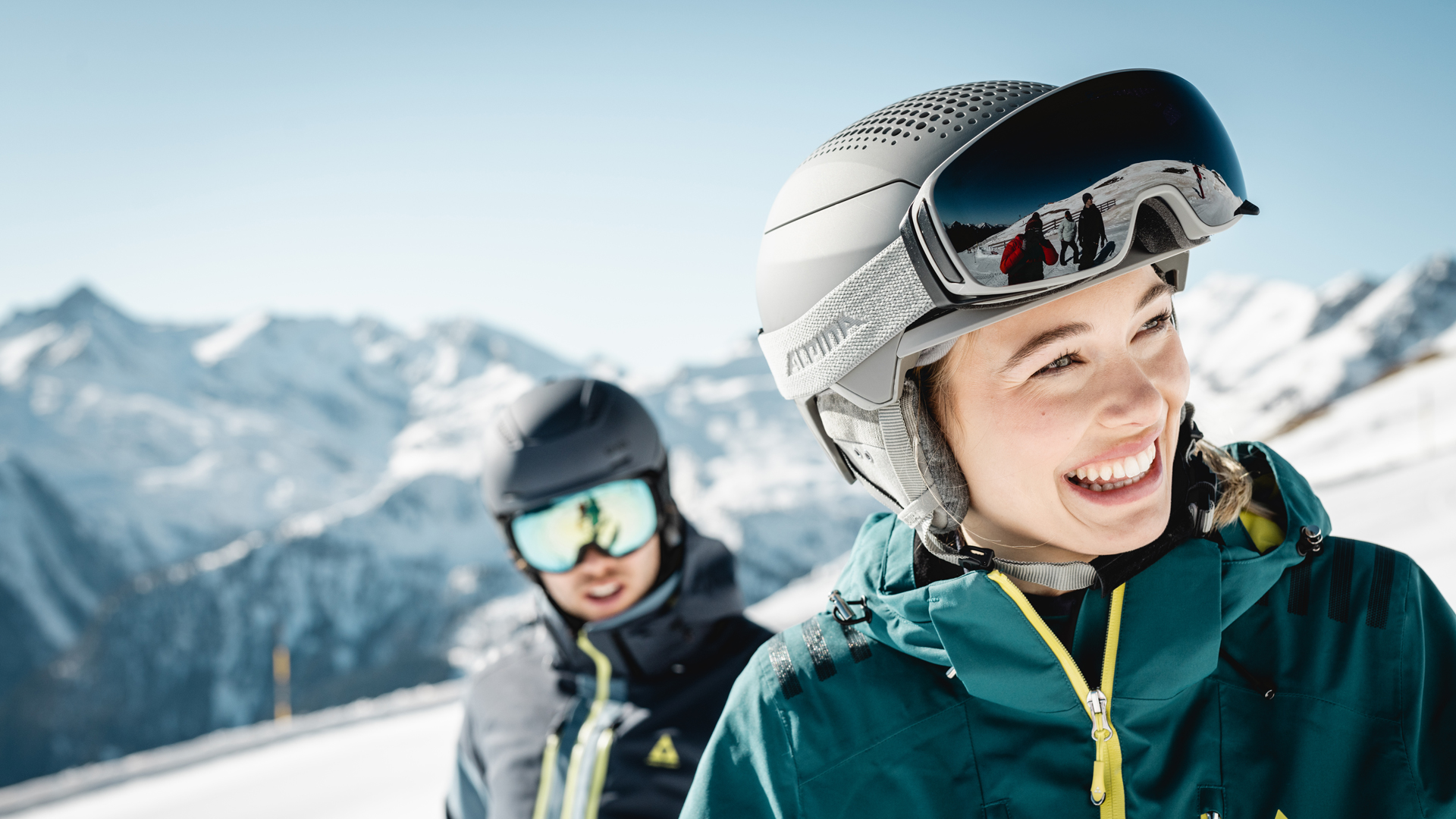 The right ski goggles
Ski goggles can be optimally adjusted to your own requirements and lighting conditions. What should you bear in mind?
Choice of lens:
Ski lenses come in the most diverse tints – from brown, blue, yellow and light to dark. In general, dark tints are said to be best for sunny days and yellow and pink lenses are preferred for poor lighting conditions. Contrast-enhancing lenses are also useful for difficult lighting conditions. These can help you recognise the details in the snow better. You should also keep in mind the VLT value (Visible Light Transmission), which indicates the light transmission of the glass.
A lower VLT value means a lower light transmission and therefore also higher UV protection for sunny days in particular. In the event of fog and heavy cloud, a higher VLT value is advisable. There is no such thing as a universally perfect lens for all conditions, but if you don't want to buy several lenses, then approximately 30% VLT is a good value that you can get by with.
Lens changing:
What do you do if the lighting conditions suddenly change, but you have the wrong lens with you? A quick lens change is needed! How does that work? Many manufacturers have acted on this problem and offer free lenses with a variety of changing systems. These work practically with magnets, click or clip systems, where the lenses can be swapped easily and in few movements.
Should the ski goggles steam up, then don't let them dry directly by a heat source or in the sun. And also don't leave them lying in a cold car overnight! This has a negative effect on the lifespan and product qualities. A better idea: Put the ski goggles in a place with constant room temperature.
Air ventilation:
Everyone is familiar with it. The ski goggles steam up. Right when they are needed! That can be prevented through anti-fog coating and a ventilation system that has become standard for all ski goggles. We are talking about air vents on the sides and upper rim of the goggles. The larger these vents are, the better protected you are against them steaming up. Please make sure that your goggles are compatible with your helmet, because this can block the airflow. Goggles and a helmet from the same manufacturer increases the compatibility.

Complete control with Alpina Double Jack Mag Q
Lens changing doesn't get any easier! The Double Jack Mag Q ski and snowboard goggles have a magnetic additional lens: Simply remove them when visibility is poor and when the sun is shining again, re-attach them without any further fixing required. Totally secure! The active ventilation flaps can even be operated with gloves, so the lens does not steam up in any situation. The frame construction is designed in such a way that they can be worn over prescription glasses.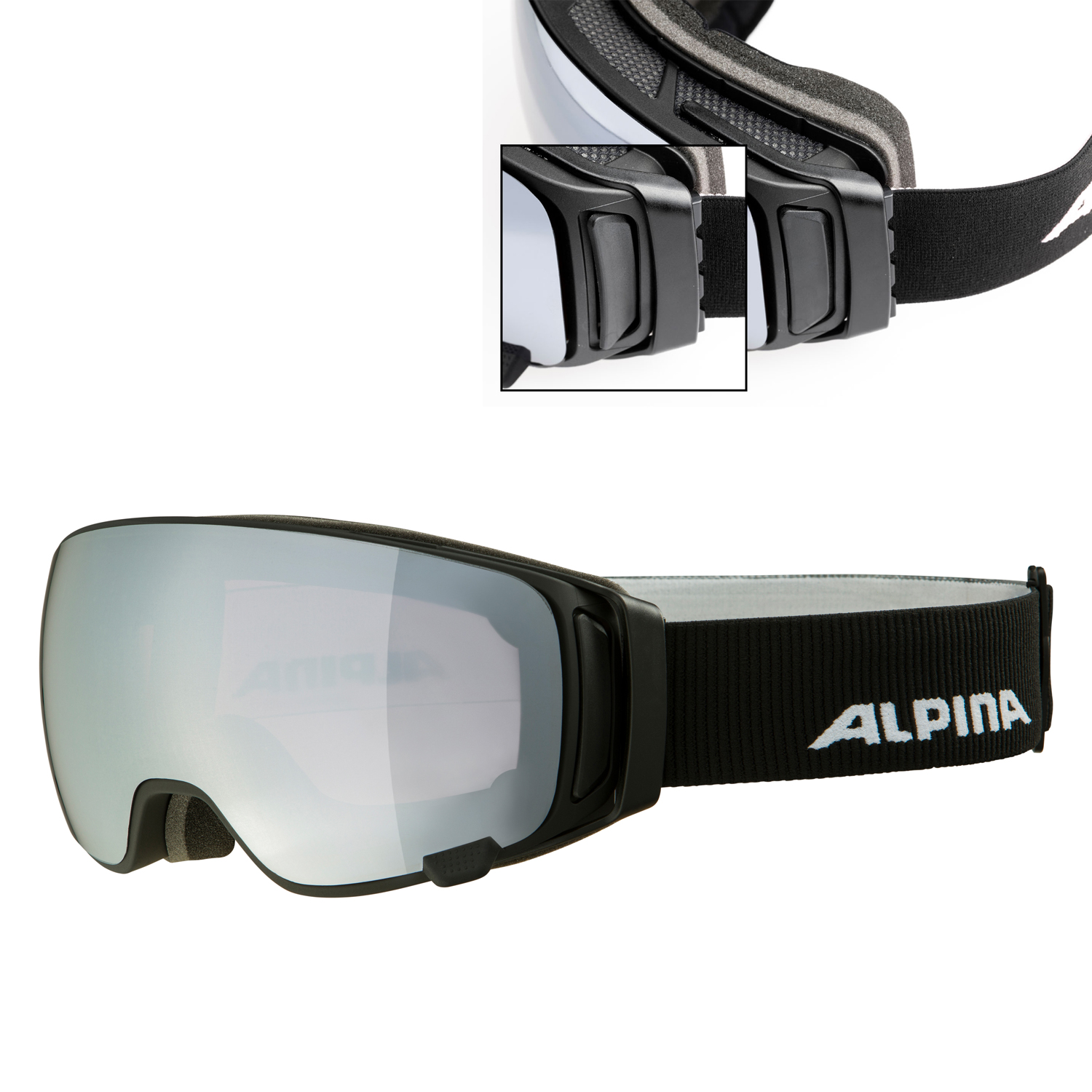 Alpina Double Jack Mag Q
RRP €199.95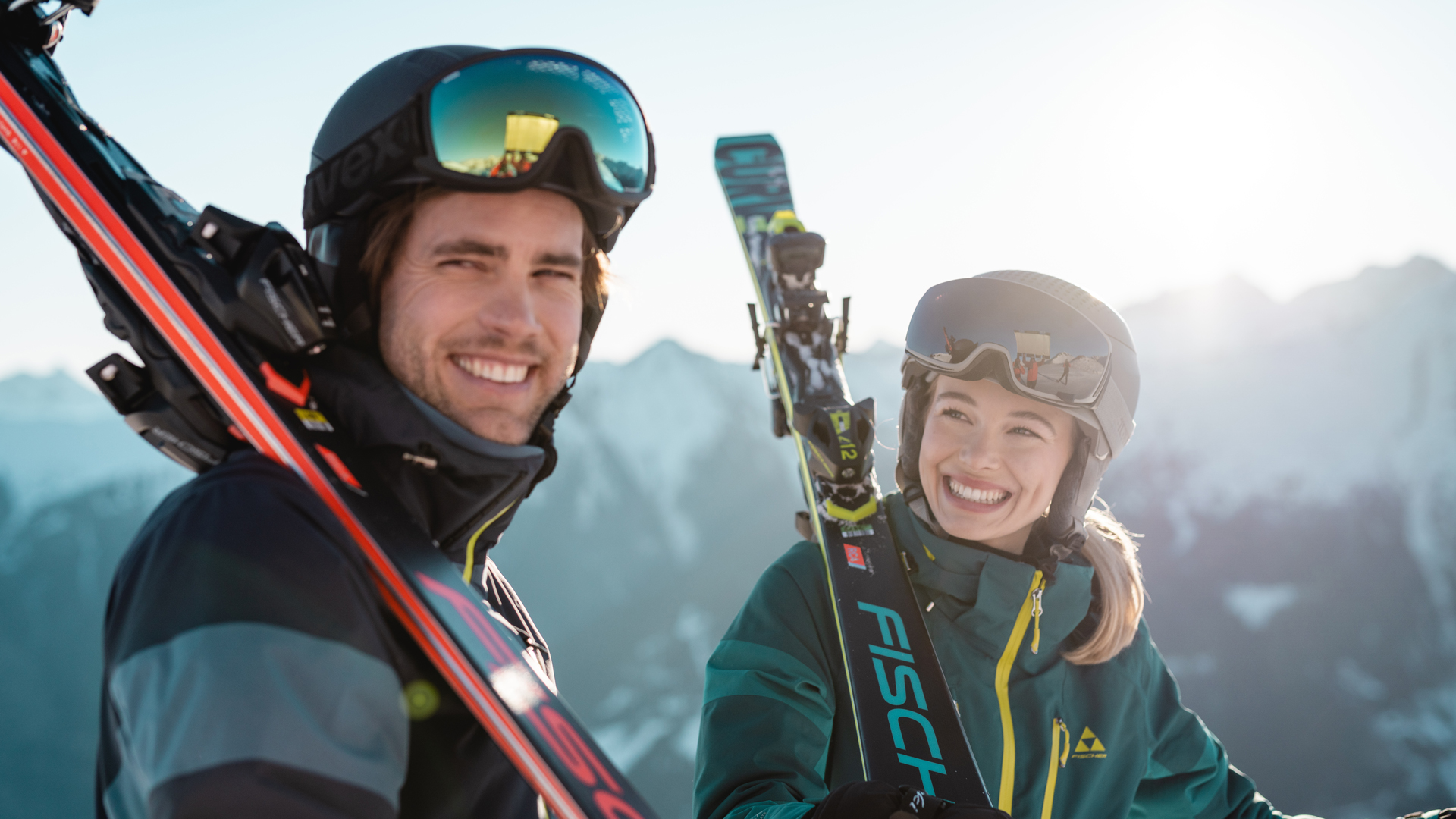 The right ski helmet
A lot has been done in recent years regarding ski helmets. Here are a few things you should know about
Manufacture:
There are two production types for ski helmets: In the InMolding process, inner and outer shells are shaped and combined in the same production step. This increases the stability while at the same time keeping the weight low. However, the insulating properties are limited, so nothing for skiers who are sensitive to the cold. In contrast, in hard shell helmets the shells are manufactured separately, so that a ventilation system can be incorporated. That means better cold protection but also heat protection through the ventilation, and therefore more wearing comfort over a longer period of time.
Standards:
There are two standards: Class A covers the ears and temples and provides the greatest possible protection, even in the event of more serious falls. This class comes from motor racing and is designed for major loads. Class B is much more comfortable and provides greater cold protection and basic protection in the event of falls.
With or without a visor?
For deep snow and off-piste riders, full face helmets are often an advantage because they fit perfectly with the helmet and thus hardly any stirred up snow impairs visibility. Additionally, it is convenient because you have one less part to worry about. Those who want to buy their ski goggles separately regardless should definitely check the fit on the helmet when buying. So take the helmet with you or buy it at the same time.
Make sure that the helmet fits well! No helmet, no matter how safe, can fulfil its protective function if it is loose or doesn't fit. Are you unsure? Our SPORT 2000 ski pros will be happy to advise you!
Freestyle, jet and integral helmets:
Freestyle helmets do not usually have ear or chin protection, therefore providing maximum freedom of movement and visibility. Many have a detachable ear protection. This is a feature for snowboarders and skiers who like to jump or are in the fun park. The jet helmet has firmly integrated ear protection and usually also has a small sun visor. A good all-round helmet which provides a lot of protection and comfort for normal riding. Integral helmets are geared towards maximum protection. They not only protect the head, temple and ears, but also the jaw. Optimal for fast-paced and risk-taking riders.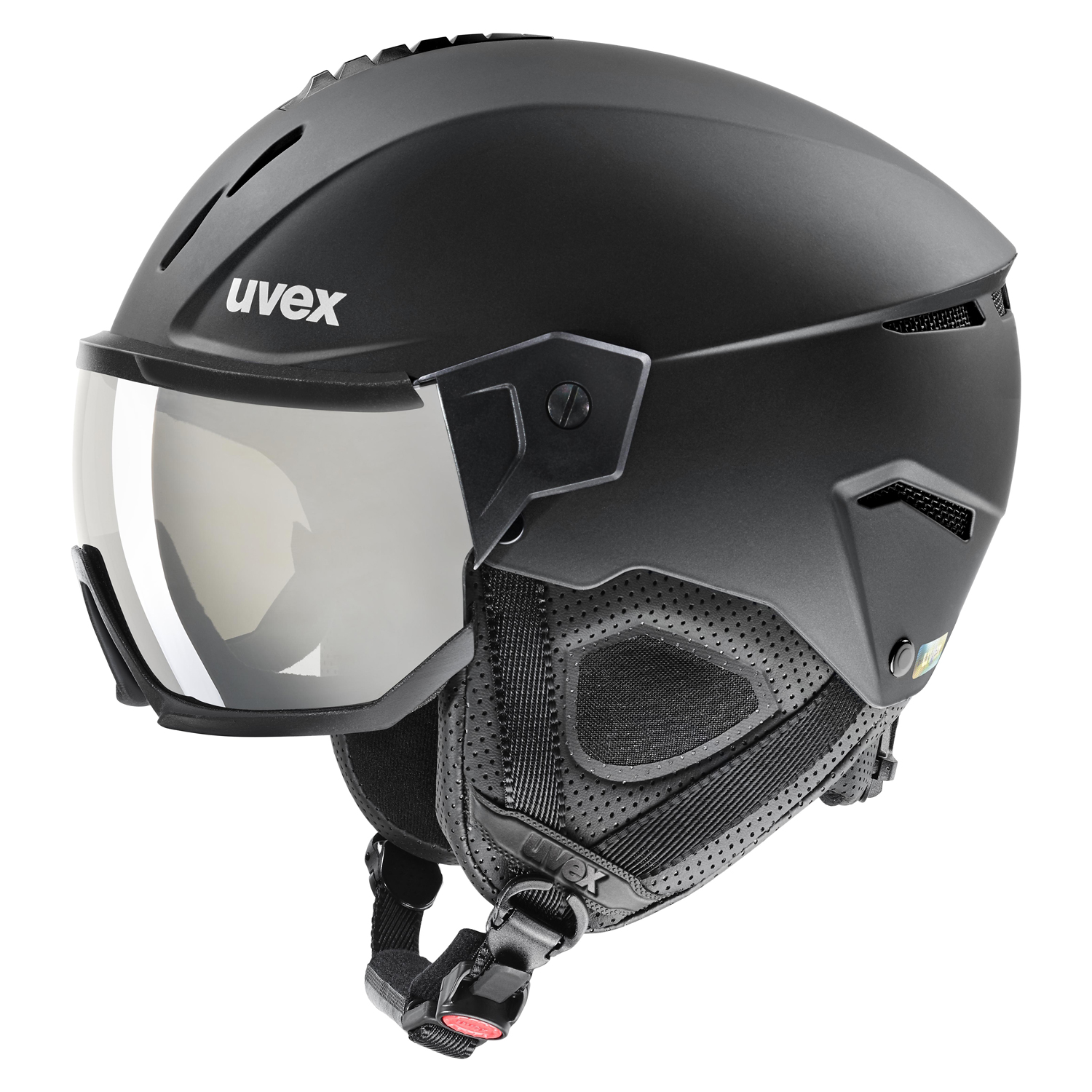 All-in-one with the Uvex Instinct Visor
RRP €199.95

All-in-one mit dem Uvex Instinct Visor
The Uvex Instinct Visor is the stylish all-in-one solution for perfect skiing days. It offers uncompromising protection, first-class comfort and is also wonderfully light. The innovative ventilation system can be manually opened or closed – for a perfect helmet climate with every descent. The striking silver mirror visor with Uvex Supravision<sup>®</sup> anti-fog coating is anatomically optimised and fits the face perfectly. It can be easily adjusted and enables a clear view at every speed. Depending on the size, goggles can be worn under the visor without any issue.
Back protector – backup for serious falls
The back and especially the spine are particularly vulnerable in the event of a fall. A back protector prevents serious injuries. But what types of back protector actually are there and what is important when buying?
Soft and hard shell protectors:
There are two common types of back protectors. The soft protectors are, as the name suggests, usually a little bit softer and therefore more comfortable to wear or even warming. They are close-fitting vests with a special softer material like, for example, dual density foam. Good models are also breathable. On the other hand, hard shell protectors are extremely robust and can even withstand falls on sharp stones or rocks, although comfort suffers as a result, making it most worthwhile for risk-taking riders.
Hard shell protectors are composed of several plastic plates that can easily be removed for washing. Furthermore, there are also airbag protectors. These are a new development and inflate lightning-fast in the case of a fall. Although they are more comfortable to wear and provide a lot more freedom of movement, they also have more weight.
Size
The right fit is an important aspect of back protectors, because it can only protect when it fits. So trying it on is essential! It is therefore better to buy in store than online.

Austrian innovation and safety with Komperdell Air Vest Men Black
The brand from Mondsee manufactures vests in which the protection system is optimally integrated. The 30% lighter and flexible Cross-Flex-Back protector with integrated flex zones ensures maximum safety with the highest degree of wearing comfort. The protector adapts to body heat.
The material can be washed at 30° without any problems. Even after a fall, the vest doesn't have to be repaired! The self-regenerable dual density foam gives 100% safety for years.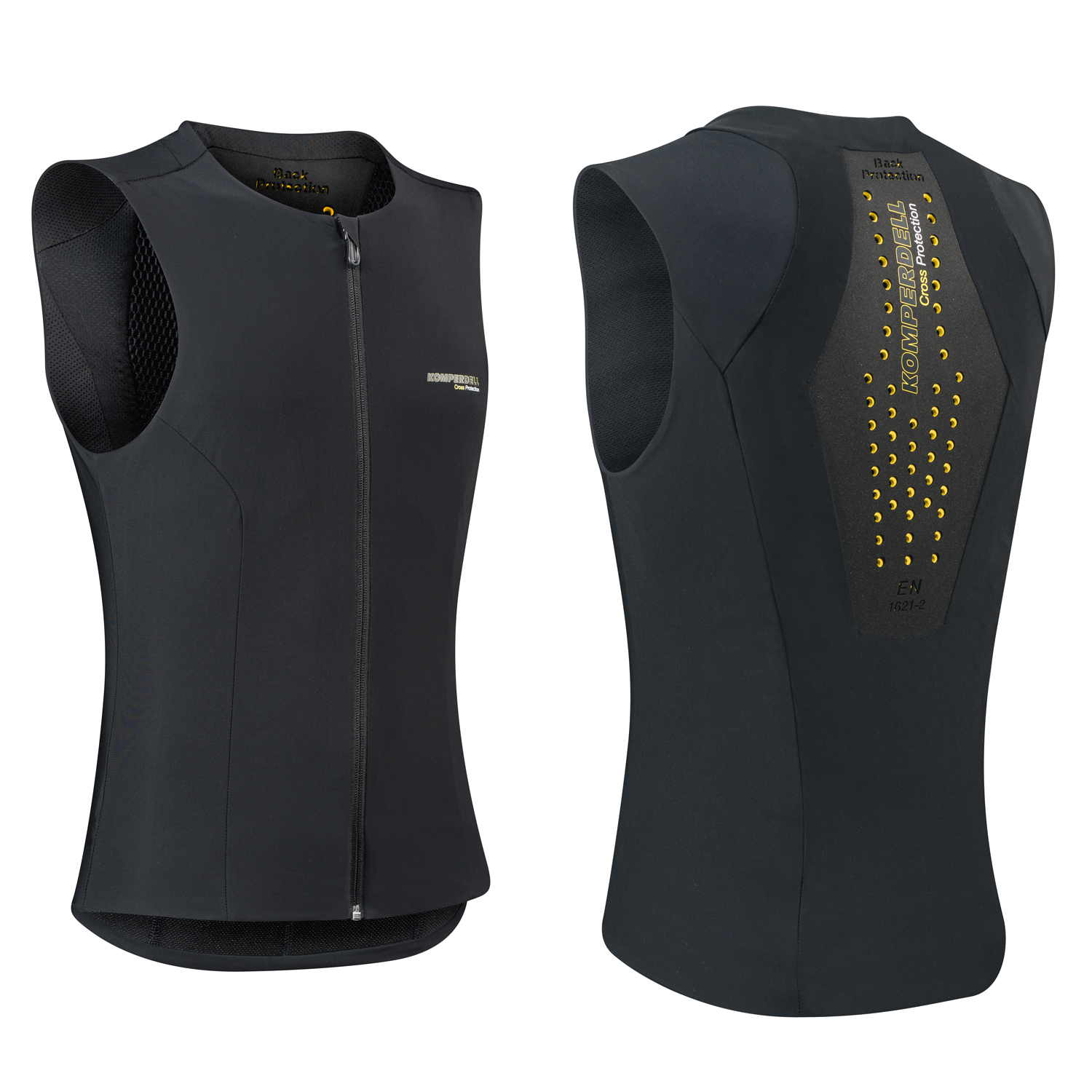 Komperdell Air Vest Men Black
RRP €179.95