ski touring for beginners
We answer 7 questions that ski touring beginners ask!
Interesting facts
Touring ski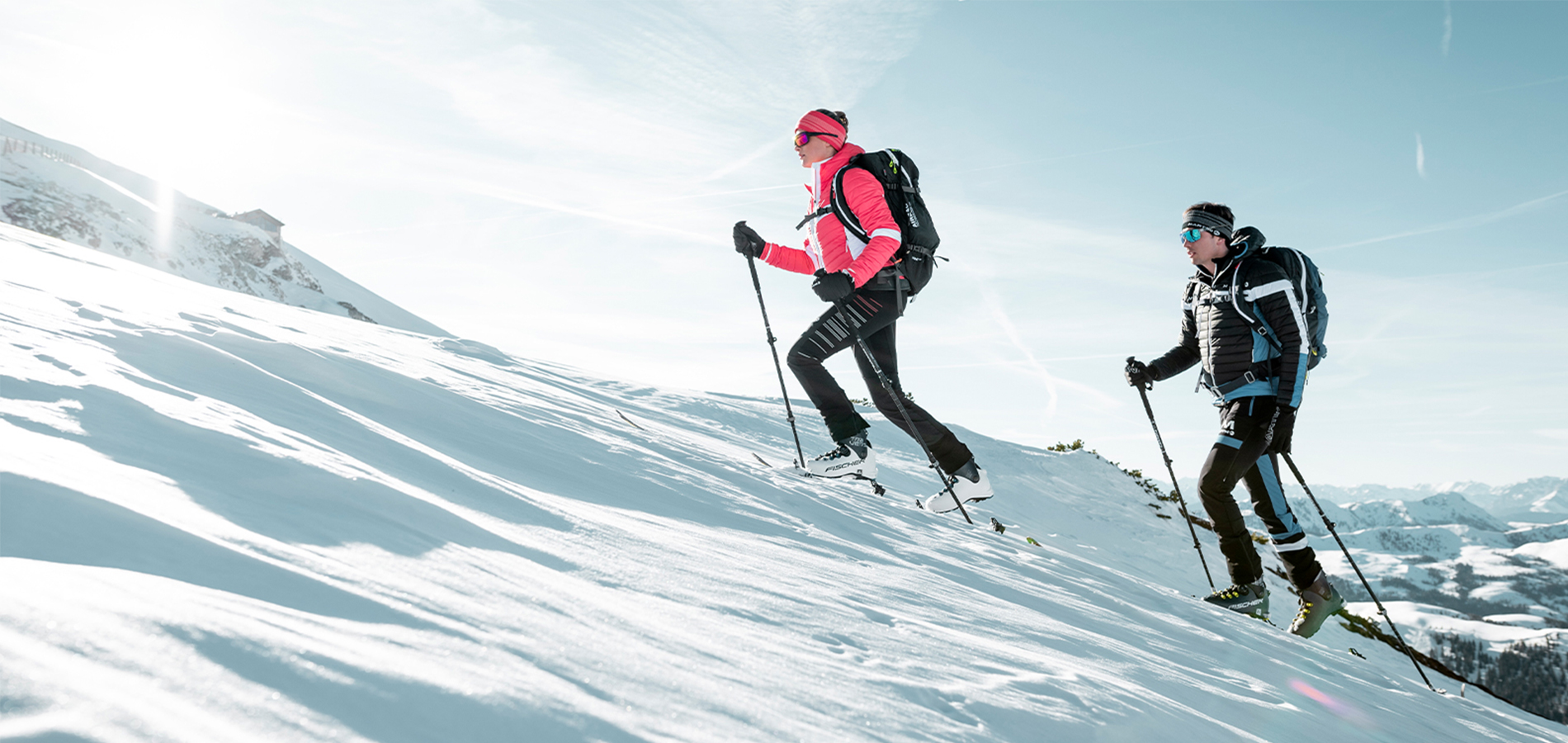 Ski touring is still THE trend in winter sports. Rightly so, as you will discover at the latest on your first tour! But, before you invest (considerably) in new equipment on the spot, we recommend you make your way to SPORT 2000 rent. There you can hire everything you need. And you can, without spending huge sums of money, check out without committing, if you really like the adventure sport ski touring! But before you head off, let's answer a few questions that may already be on your mind.
1. Do I have to be able to ski to undertake a ski tour?
Absolutely, yes. Not only on the descent do you have to be able to master your skis. Also during the tour there are downhill passages time and again requiring you to unpack your skiing skills. Alpine skiing should not be a problem for you and should be something you enjoy. You haven´t been on the slopes for a while? Refresh your alpine skiing knowledge and get our tips when you're on the slopes for the first time or back after a long break: Read here mire!
2. Should I start by investing in a complete set of touring equipment?
No, certainly not, especially if you are not even sure whether you´ll like the sport. Instead of digging deep into your wallet, you can simply rent your ski touring gear for one or more days at SPORT 2000 rent. Perfect for getting a taste for your first ski tour! If you already feel confident on touring skis and want to tackle more challenging ski tours, then you can still get advice from your SPORT 2000 dealer. It will help you to make decisions when purchasing your own ski touring equipment.
3. What should I wear on a ski tour?
Our tip for clothing for your ski tour? The onion principle! Wear several thin layers, so you can customise your clothing for the different stages of your tour. Start with a base layer that is close to the body and transports sweat optimally. The insulation layer is next, it should keep you warm (e.g. down or fleece jackets). The last layer has to fend off snow, water and wind. Depending on the weather, these include wind- and/or waterproof softshell and hard shell jackets made of materials such as GoreTex or comparable membranes. Otherwise, the following equipment should also find space on your ski touring pack list:

Touring trousers (usually softshell)
Headband or beanie
Tube scarf
Thin and thick gloves (you'll need both for ascent and descent)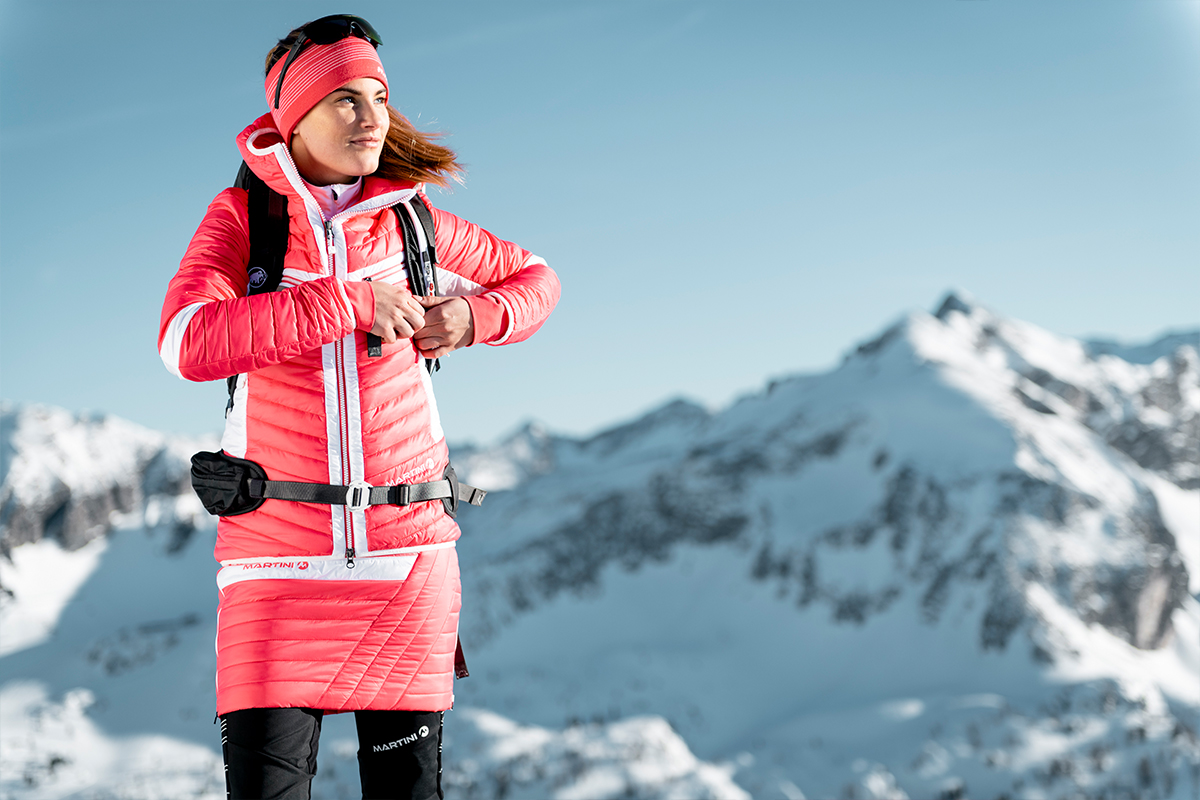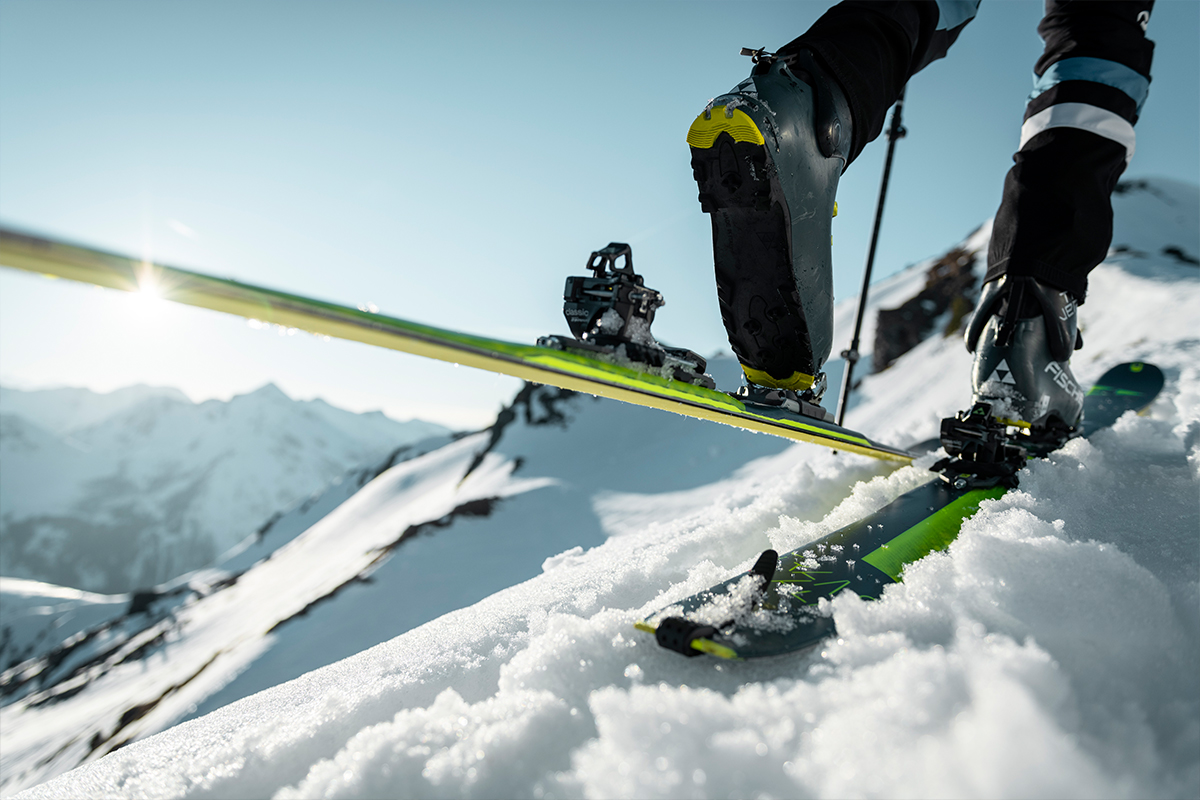 4. Where should I make my first steps as a tourer?
For a start, tours are recommended in which you ascend at the edge of a secured ski slope and then descend on this slope. If you find it fun, you can get information on selected off-piste beginner tours and start your first real ski tour.
5. How do I move forward and what do I have to consider in my walking technique?
When going uphill, it is important not to take too small steps and not lift the skis off the ground. Find a walking pace that you can easily hold for at least an hour. The distance to the person in front of you depends on the gradient of the slope: Flat / moderately steep terrain: 1 ski length Gradient up to 30°: keep a distance of 10 metres Slope over 30°: application of the switchback technique
6. Switchbacks technique? What is it and how does it work?
The switchback technique is used when the slope gradient becomes steeper than 30°. Place both skis horizontal to the slope and try to find a good position. You shift your weight mainly to the valley ski (that leg that is closer to the valley), so you can freely move the mountain ski and turn around the switchback. Once you have turned the mountain ski, you can brace yourself with the poles, lift the knee and turn the valley ski around the ankle, placing it next to the mountain ski. Thus you climb the slope in zig-zag fashion.
7. When can I venture into open terrain? How am I safe when underway, even far from the piste?
You aren´t fit for open terrain until you have extensive knowledge in the areas of avalanche awareness, snow surface structure, slope behaviour, first aid and tour planning. This is best collected on ski tours which you undertake together with experienced mountain guides. There are also many courses offered on this topic that provide valuable information and experience. And most importantly, you must be absolutely familiar with the safety precautions. They are not only lifesaving for you far away from the piste, but also for everyone else on the mountain. Therefore, you should not only have the required safety equipment, but also know how to deploy it. Want to know more on this topic? Write us a message on Facebook or Instagram; we are happy to provide further advice on this topic!
Sound like something for you? We can well understand that! To feel the pristine powder snow under your skis is a unique feeling and really addictive! Find out now about a SPORT 2000 rent dealer near you or at your skiing holiday destination. Uncomplicated, inexpensive and reliable: Here more.