Up to -20% discount on online bookings!
Ski rental Innsbruck-Igls
Your SPORT 2000 dealer is located directly in Innsbruck-Igls.
Patscherkofel ski area
dream holiday in Innsbruck-Igls
The beautiful winter sports resort of Igls is also a district of the provincial capital Innsbruck and lies at 870 m above sea level on a low mountain terrace. Every year, national and international guests enjoy the beautiful mountain scenery and the unique flair that can be clearly felt in Igls due to its proximity to the city. A visit to the exceptionally urban Tyrolean winter sports resort is definitely worthwhile and something very special. Skis can be conveniently rented at the ski rental SPORT 2000 Snowsport Igls.
Innsbruck - Igls
The Patscherkofel in the Tux Alps is Innsbruck's local mountain and is home to the ski area of the same name. Thanks to its manageable size, it is particularly suitable for families with children, who can let off steam on over 5 km of blue slopes. But there is also more than enough skiing fun for advanced skiers: 10 kilometres of red and 4 kilometres of black pistes invite winter sports enthusiasts to try them out. A highlight for professionals is definitely the steep Olympic run with a difference in altitude of around 700 m.
Book online now
Our rent shops
Location rating Innsbruck - Igls
Ski Hotspot in Tirol
Feel like an Olympic champion in Innsbruck-Igls
Varied skiing area Patscherkofel
During the Winter Olympics in the 60s and 70s, Innsbruck-Igls was the hotspot par excellence. Even today, much of the extraordinary flair of these sporting competitions has been preserved. On Innsbruck's local mountain, the Patscherkofel, there are several ways to feel like an ace skier. The Olympic downhill is a great challenge and presents racers and professionals with a real challenge. For bobsledders and bobsled fans in general, a visit to the Olympic Ice Channel is definitely worthwhile. Every year there are exciting events there with a goosebump factor. The Patscherkofel ski area is part of the Olympia SkiWorld Innsbruck, which also includes other ski areas. With the SKI plus CITY Pass you can explore over 300 kilometres of varied slopes.
If you prefer to let off steam on obstacles, the fun park in Igls is the place to be. It is not only popular with the Innsbruck freestyle scene. The numerous ski guests who come here also love the rails, tubelines and jumps. There is also a good selection for beginners to get to grips with this discipline. The little ones, on the other hand, can get acquainted with skiing for the first time in the Kinderland. Professional ski instructors are on hand to offer help and advice.
Rent high-quality ski equipment
Ski rental SPORT 2000 Snowsport Igls
To feel like an Olympic athlete, you naturally need the best possible equipment. At the ski rental SPORT 2000 Snowsport Igls you are definitely at the right address. The competent team is not only happy to answer your questions about winter sports, but also ensures that the rented equipment is always perfectly serviced. This means freshly waxed skis after every ski day and sharpened edges - so that every descent is a pleasure. The wide range includes high-quality skis and snowboards from top brands such as Atomic, Salomon, Fischer and Burton. Safety equipment such as helmets and back protectors can also be rented at the ski rental SPORT 2000 Snowsport Igls.
Snowshoes, tobogganing and cross-country skiing guarantee fun away from the ski slopes. Families with children will also find what they are looking for. If you reserve the equipment you need online in advance, you benefit from the SPORT 2000 online guarantee. You get up to 20% discount on the regular price.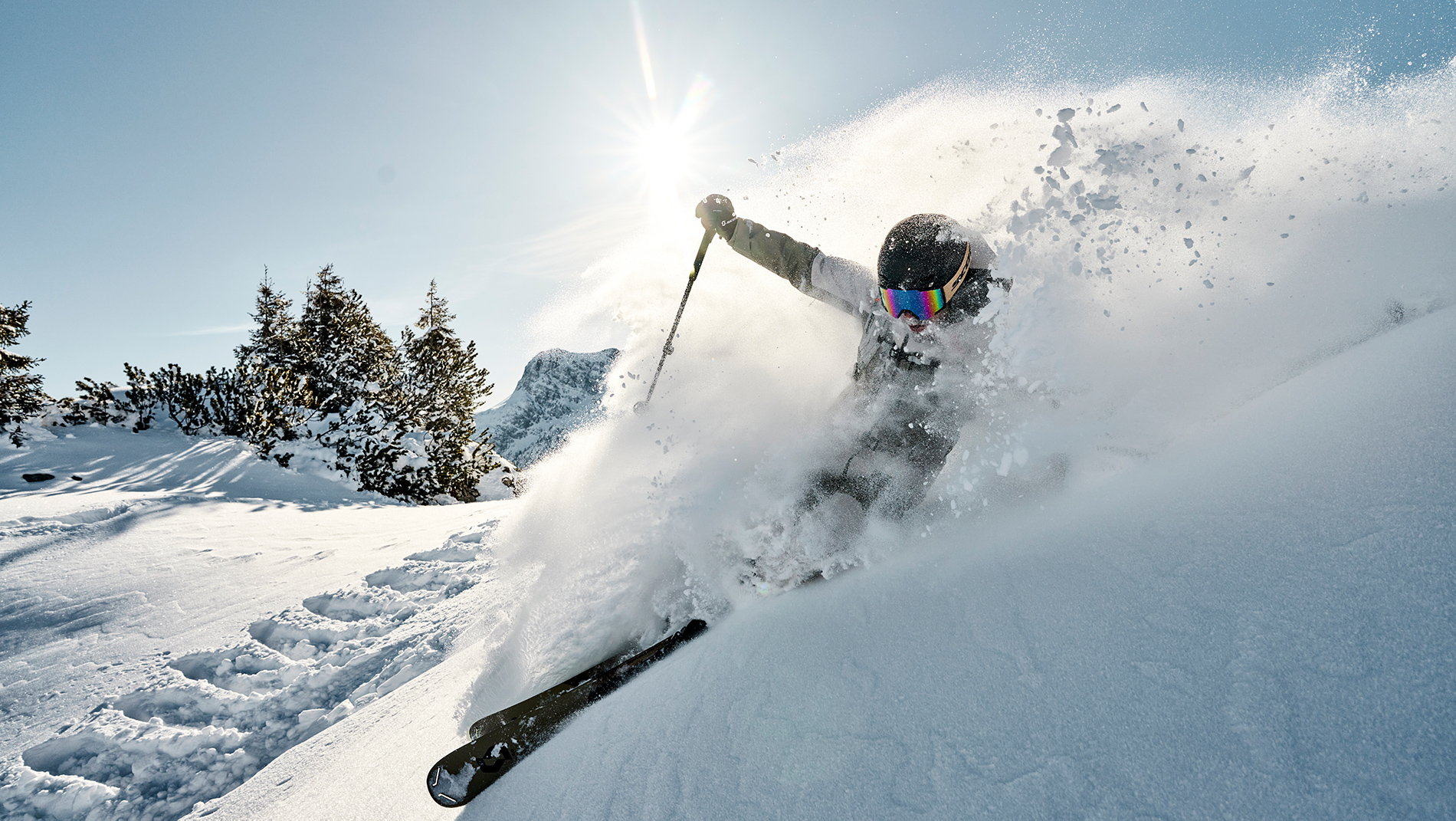 Winter holiday in Innsbruck-Igls in the Patscherkofel ski area
a very special experience
Urban and yet rural, that is Innsbruck-Igls. Those who do not want to do without the comforts of a big city, but love nature and tranquillity, will find their ideal holiday destination there. The location of Igls naturally also entails the greatest possible variety: shopping in the centre of Innsbruck, sightseeing including a view of the Golden Roof and then a wonderful winter hike on the Patscherkofel. The area also offers plenty of variety and wonderful views for snowshoe hikers, whether beginners or experts. The Gletscherblick round tour, for example, is not very demanding, but rewards you with a fantastic view of the Stubaital. Snowshoes can be rented at the SPORT2000 Snowsport Igls ski rental.
The surrounding large ski areas such as the Axamer Lizum, the Stubai Glacier or Kühtai are easy to reach from Innsbruck-Igls. Besides skiing, there are also many other activities in the region. In Oberpfuss, for example, cute alpacas are waiting to accompany you on your winter hike. Cross-country skiing on the high-altitude trail in Kühtai is definitely an experience, and ice climbers can choose from more than 8 ice climbing areas.
Culinary highlights in Innsbruck-Igls
traditional and modern Tyrolean cuisine
On Innsbruck's local mountain, the Patscherkofel, enjoyment is definitely not neglected. "Das Kofel" at the top station with its fantastic panorama terrace or "Das Hausberg" at the bottom station spoil the palate with regional dishes, for example, supplemented with modern dishes and the usual classics on the mountain. These include goulash soup, mountain gröstl with fried egg or shepherd's macaroni. A yeast dumpling as a dessert is, of course, not to be missed.
Ski rental Igls - Frequently Asked Questions
Where can I rent skis in Innsbruck-Igls in the Patscherkofel ski area?

Your SPORT 2000 dealer is located directly in Igls:

Ski rental SPORT 2000 SNOWSPORT IGLS
Eichlerstraße 16
6080 Innsbruck-Igls
Tyrol

Where is the Patscherkofel ski area located?

The Patscherkofel is Innsbruck's local mountain and belongs to the Tux Alps. The district of Innsbruck-Igls is located directly at the foot of the mountain, which makes it the ideal starting point for a skiing holiday. It takes about 10 minutes by car to get to the centre of Innsbruck, and the Brenner motorway is also not far from the Patscherkofel. If you are not staying directly in Igls, ski buses are available to take you safely to the mountain and back to your accommodation.

What does a winter holiday in Innsbruck-Igls in the Patscherkofel ski area offer me?

A winter holiday in Innsbruck-Igls could hardly be more varied. The cosy Patscherkofel ski area is part of the Olympia SkiWorld Innsbruck with its more than 300 kilometres of pistes. A look at the Olympic ice channel definitely pays off, while advanced skiers can try their hand at the Olympic downhill run on which Franz Klammer won gold in 1976. Extensive snowshoe hikes with a view of the Stubai Glacier, animal company on an alpaca hike or shopping right in the centre of Innsbruck - there is something for everyone here!