The most important function of avalanche transceivers and avalanche backpacks: to save lives in an emergency! That's why you shouldn't make any compromises when buying one. Because every minute counts when searching for buried victims. Statistically, the chance of survival drops to only 30 percent after half an hour. We have looked at what happens in the companions in an extreme situation and how you can prepare yourself in advance for an avalanche.
The factual truth
Last year, eleven people were killed in 58 avalanche accidents in Austria, according to Statista.com. That is significantly less than the year before. Awareness-raising, education and training, fast and up-to-date information transfer as well as appropriate safety equipment help to minimise the risk as best as possible. Once an avalanche starts moving, it sets off a chain reaction that cannot be stopped. The time factor plays a major role here. If buried victims are found within a quarter of an hour, 90% of them are still alive. The chances decrease with each additional minute. Ortovox has dedicated itself to the topic of safety and, in the course of this, asked Sigrun Holzer, a psychologist specialising in neuropsychology from Oberstdorf in the Oberallgäu, how the extreme situation affects rescuers.
"The less you have to think, the better"
Sigrun Holzer | Avalanche expert
On the question of what happens to people in an extreme stress situation - like an avalanche - the expert says: "A stress reaction leads to an improvement in our physical performance, but at the same time reduces our cognitive capacity. This is shaped by evolution. When our Stone Age ancestors saw the sabre-toothed tiger coming, it was a matter of being physically strong and being able to flee quickly. Our bodies therefore release hormones like cortisol and noradrenaline. More sugar is made available in the blood and the cells are supplied with extra energy. Now we do need strength, but actually in such a situation our head should be working. Instead, our cognitive abilities are on the back burner and goal-oriented action is difficult."
How can you counteract this? The psychologist explains that during negative stress, the mind no longer functions properly. It then falls back on habitual patterns of action. Therefore, it is advisable to practise an automatism for an avalanche. "If you practise and internalise the procedure regularly, you are more likely to be able to recall it and fall back on a structured approach. I also advise a group to clarify at the car park who will take on which role in such an event. This saves time in an emergency and facilitates decision-making, whose rationality suffers under the influence of stress," is Sigrun Holzer's recommendation. It is therefore important to remain as calm as possible in a stressful situation and not to act hastily, even if the urge to act immediately is great. First take a few deep breaths and then get going. Holzer emphasises: "In general, it is advisable to do everything in advance that simplifies the complexity of the situation.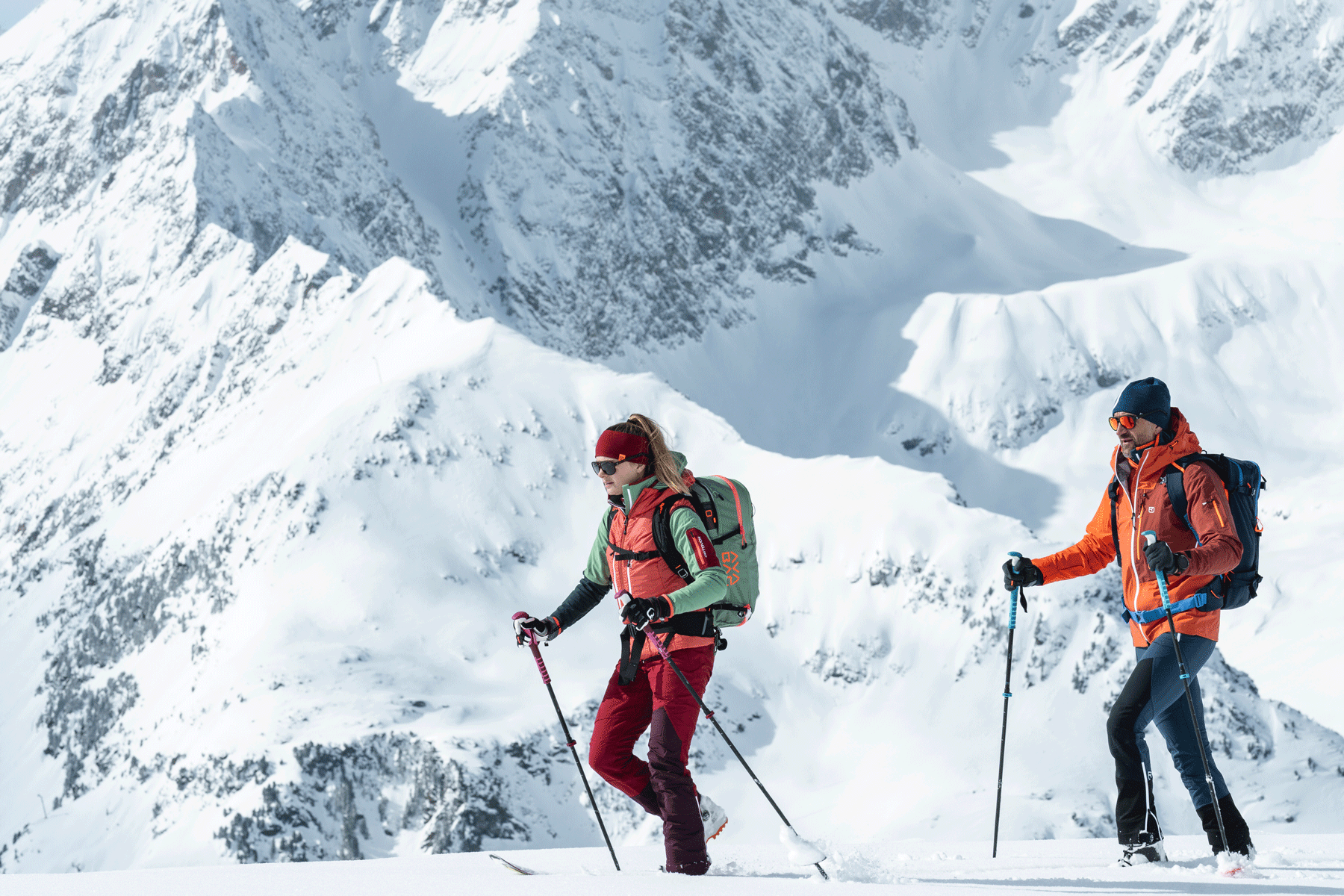 If it catches you - correct behaviour
In an avalanche it is a matter of life and death. With the right behaviour, you can increase your chances - be it through the optimal use of equipment, avoiding an early loss of control or protecting yourself from injury. Gerhard Vasold, Managing Director of SPORT Vasold in Liezen, has five tips on how to behave correctly in an avalanche:
Try everything to stay on your feet and steer sideways out of the avalanche.
If escape is no longer an option, part with your skis and ski poles in good time. These not only increase the risk of injury, but also the danger of being buried deeper. Above all, the ski poles must be removed so that your hands are free.
Grab your equipment (pull the avalanche airbag) and try to stay on the surface of the avalanche with swimming movements.
Before the compacted snow comes to a stop and you have no more room to move, use your hands to form a cavity in front of your mouth and nose. Then start trying to get into a crouched position: Arms in front of the chest, hands as a breathing cavity in front of the mouth and nose.
When you become a rescuer - correct behaviour
If you observe an avalanche from a distance and see people affected by it, it is important to keep a close eye on them and their final position. Knowledge of the situation is the most important prerequisite for a timely rescue. The mountain sports expert from Liezen also has some tips for avalanche helpers:
Go to the suspected burial site and try to determine the exact position by optical or acoustic signals. But don't forget your own safety, because avalanches can always occur.
Mark the suspected search area for permanent orientation.
Structured, calm, but fast is the motto. If several people are present, the tasks are distributed: Inform mountain rescue, take command and coordinate situation, start search, prepare probes and shovels.
Proper mastery of the avalanche transceiver is mandatory for all winter sports enthusiasts. The search starts by following the strongest signal and narrowing the radius more and more.
Once the victim has been located, you immediately start digging. The most important task is to uncover the head and check that the airways are clear.
The next steps are to initiate the necessary first aid measures and to prevent the victim from cooling down further. However, care must be taken when moving the victim. If the victim is hypothermic, movement can cause serious cardiovascular problems.
Always stay at the scene of the accident until the rescue services arrive.
Try everything to stay on your feet and steer sideways out of the avalanche.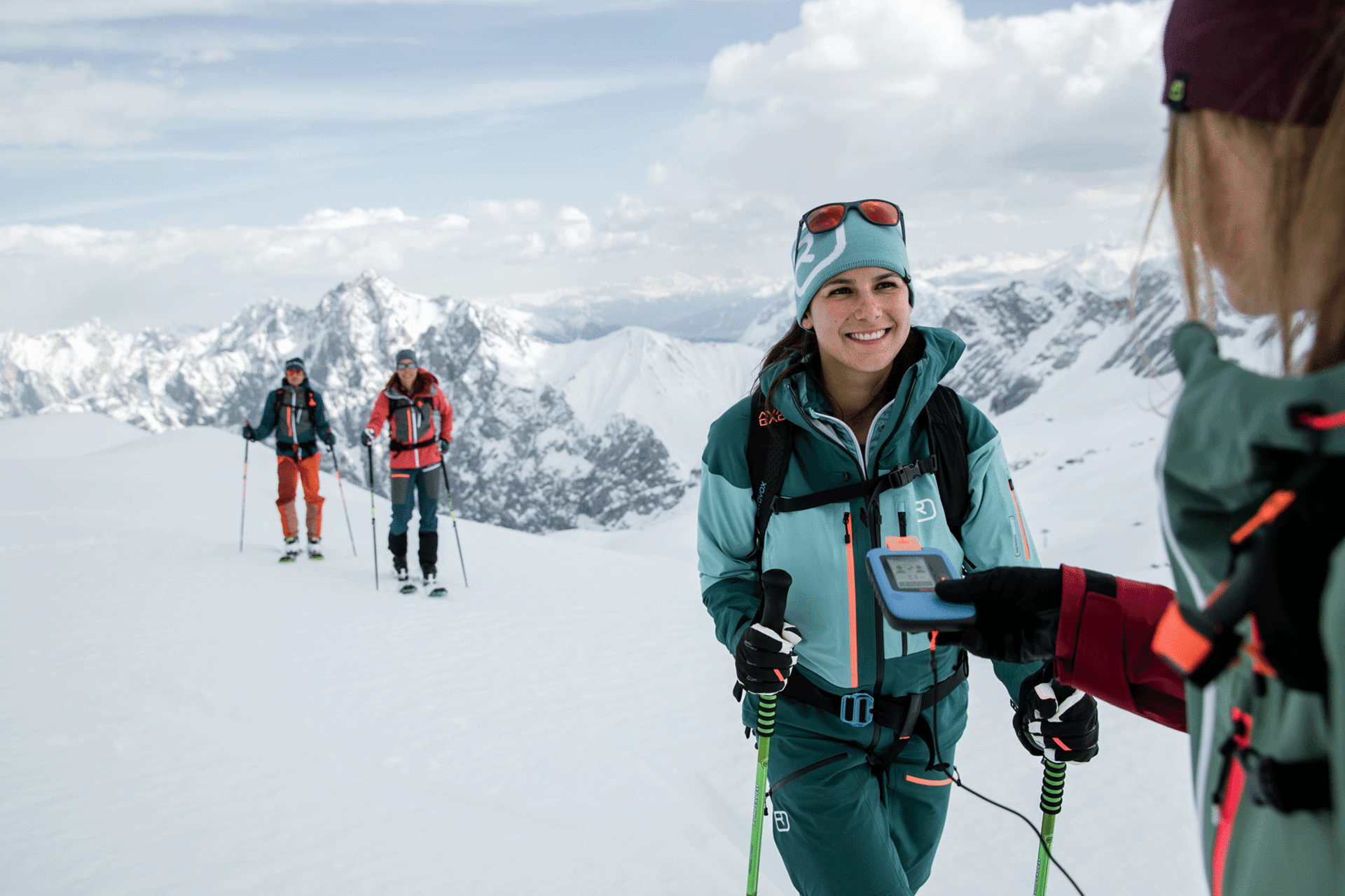 Learn from the best – the professionals when it comes to safety
Whether you are a beginner or a professional - you never stop learning about avalanche safety. Even experienced mountain experts regularly continue their education, exchange ideas, practise procedures and play out different scenarios in order to be prepared in the best possible way. Suitable equipment that is regularly checked for functionality and maintained plays just as big a role. Ortovox has made the topic of safety its mission and philosophy and, in addition to high-quality products, offers a Safety Academy with avalanche courses.
Ortovox began developing the first dual-frequency avalanche transceiver over 40 years ago. Now, with the DIRACT models, trend-setting avalanche beacons are coming onto the market once again. The DIRACT-VOICE model is the first avalanche transceiver with integrated voice navigation.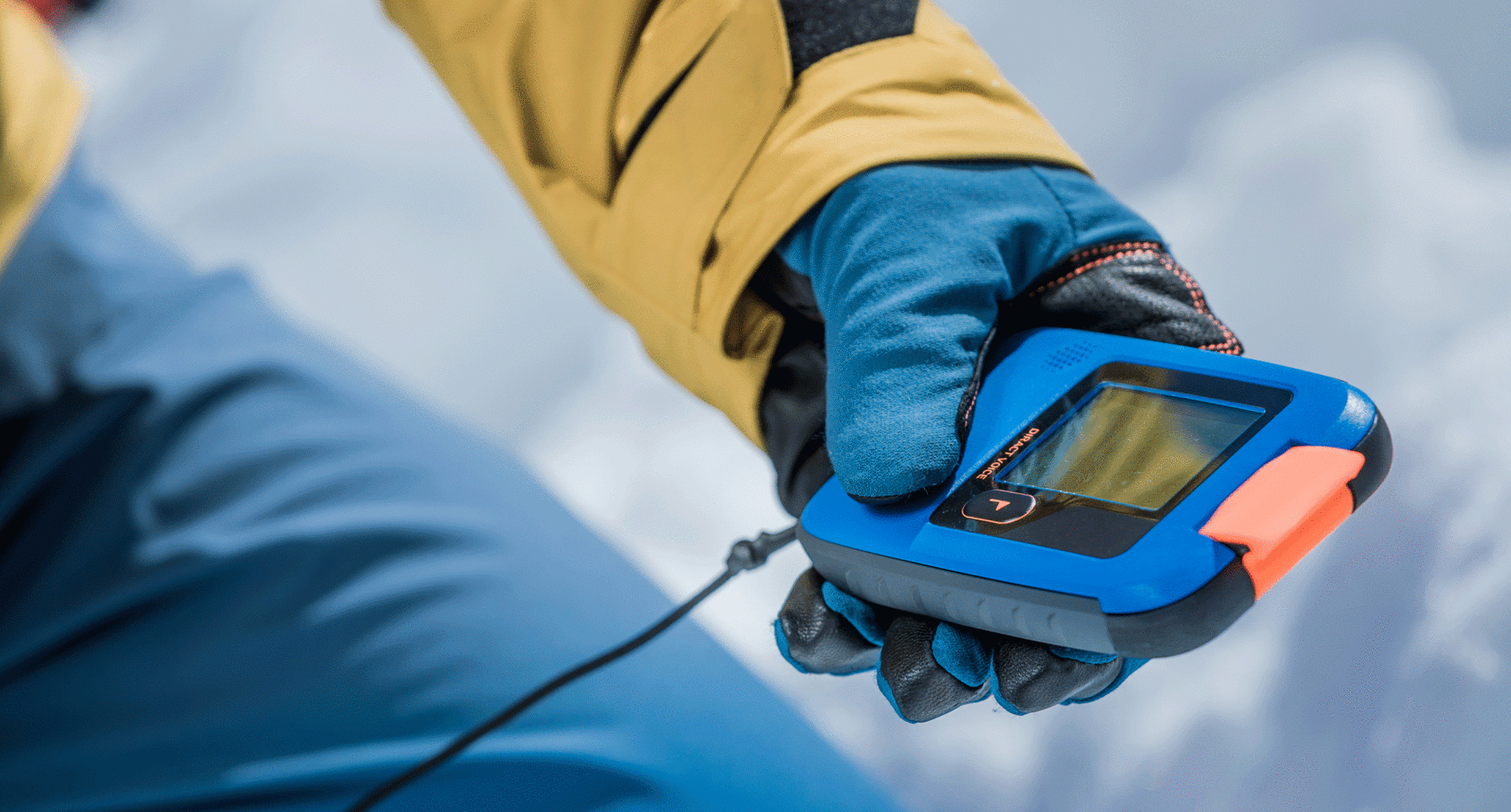 DIRACT VOICE communicates through two senses: hearing and seeing.
Minimum size - maximum function
DIRACT VOICE communicates via two senses: hearing and sight. The extra-large, full-graphic display with 360° real-time display facilitates readability with clear symbols, even in difficult lighting conditions. And the unique voice prompt guides the searcher with clear verbal commands. At the same time, the voice has a calming effect and the eyes can concentrate on the direct search in the snowfield. The stress level of the rescuer is automatically reduced.

The new lightweights from Ortovox are 2.3 cm thin, weigh only 210 g and are designed for maximum intuitive handling: The signal-coloured, easy-to-use toggle switch allows even inexperienced users to quickly switch from transmit to search. And with a single control button, you can mark spills. Both models feature the patented Smart Antenna technology - this analyses the position of the device in the avalanche and automatically switches to the best transmitting antenna. This doubles the range and helps you find the wearer faster.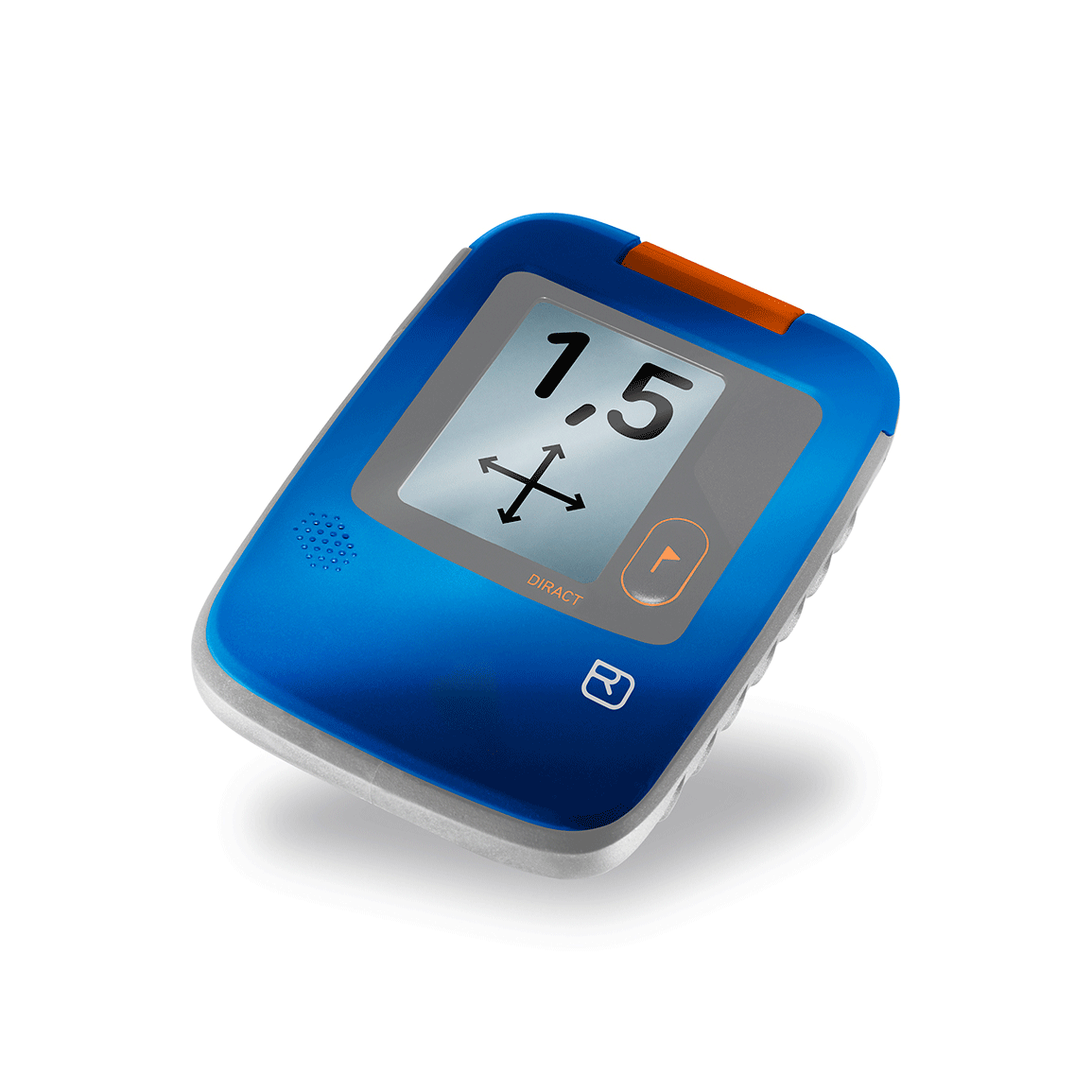 Ortovox DIRECT
UVP € 700,00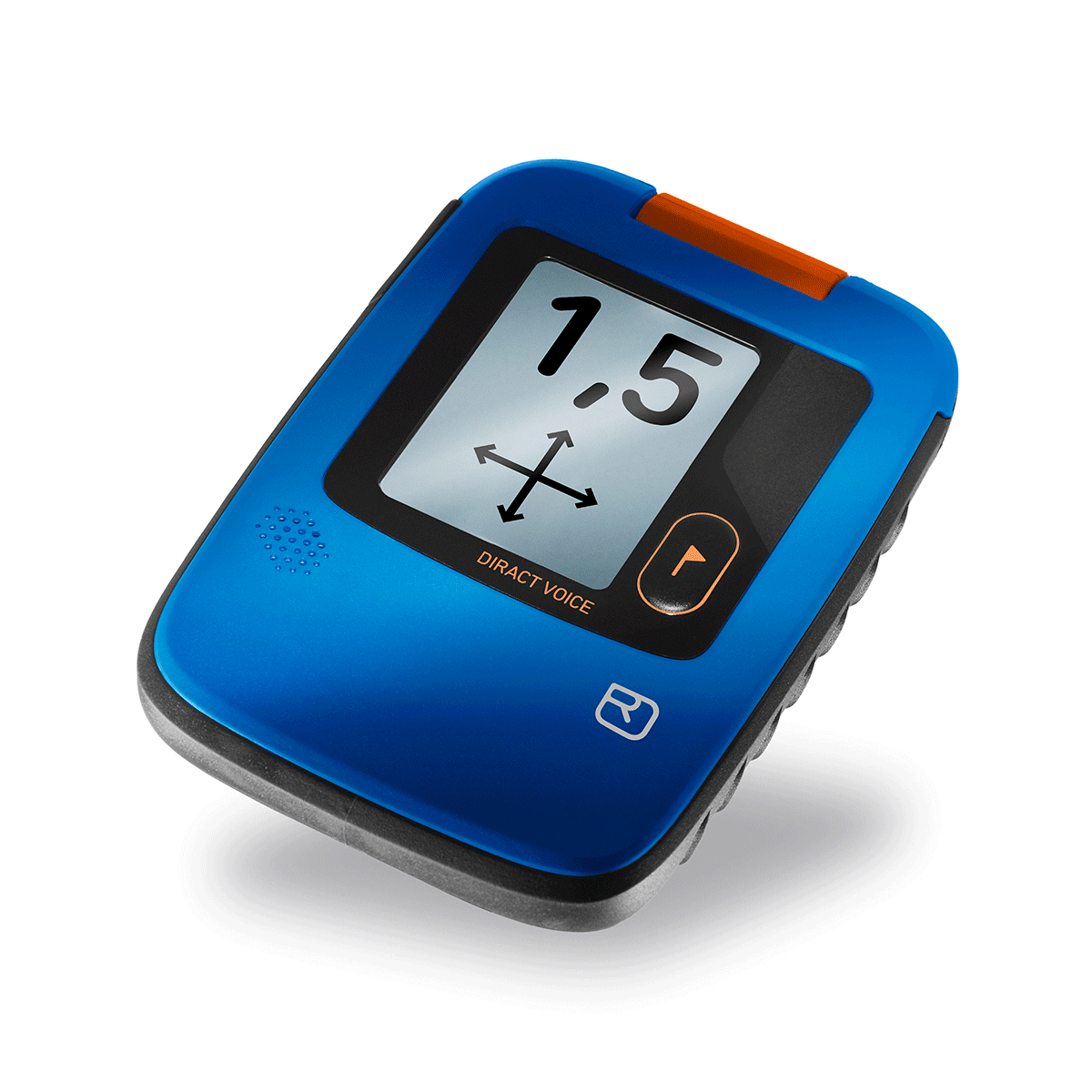 Ortovox DIRACT Voice
UVP € 700,00
Practice, practice, practice - the best way to protect yourself
One in eight airbag users fails to activate the system in an avalanche. This worrying finding is the result of an analysis of 106 relevant avalanche accidents by Canadian avalanche researcher Pascal Haegeli together with a team of experts. Another fact that proves that regular release training or practice with the equipment is essential.

Training teaches you how to react correctly in a real situation. It takes place without a cartridge screwed in - only in this way can releases with the Avabag system be repeated as often as desired. The system is then re-armed using the reactivation tool.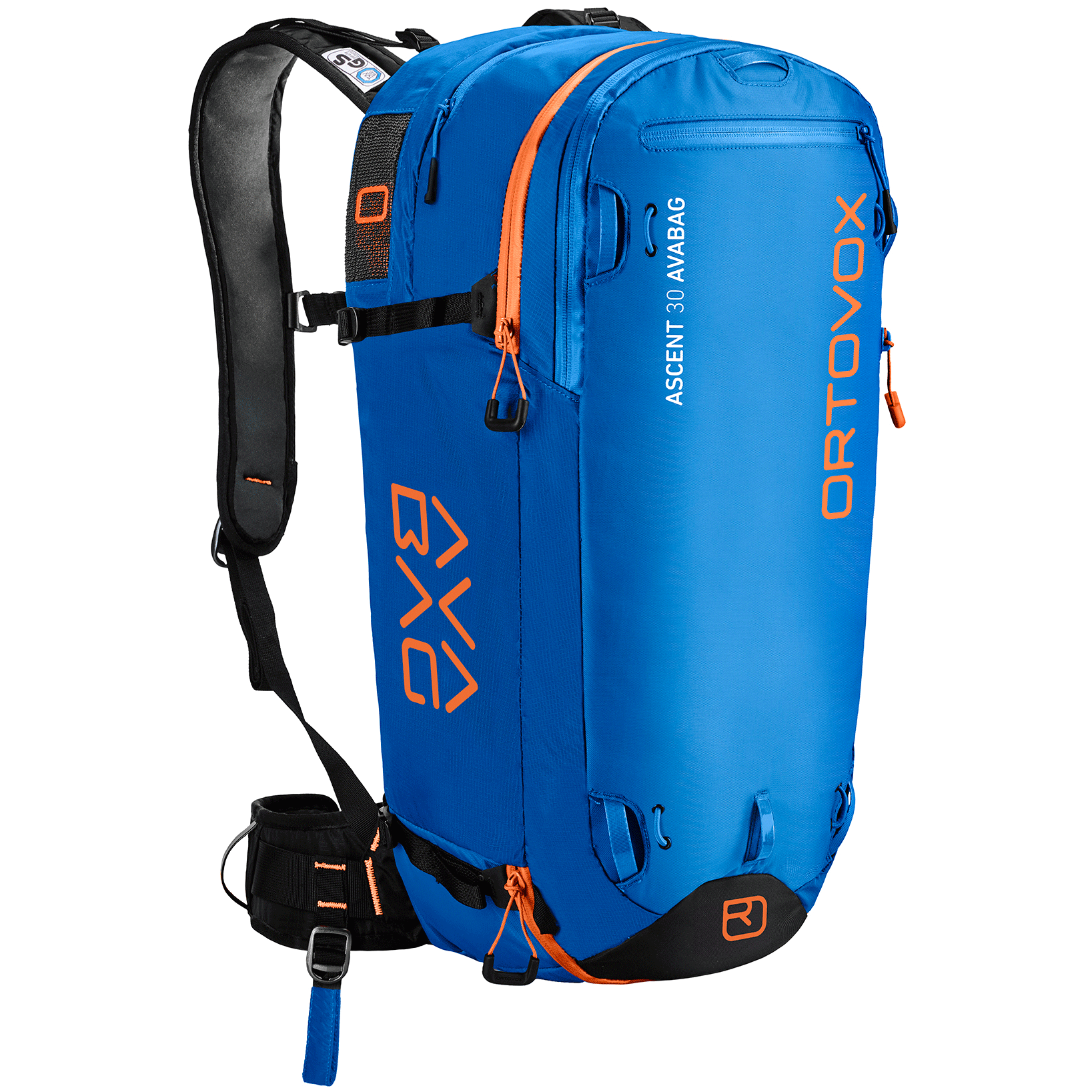 Ortovox Ascent 30 Avabag Kit
ideal airbag backpack for long ski tours. Lightweight and spacious.
RRP € 700,00
Details ansehen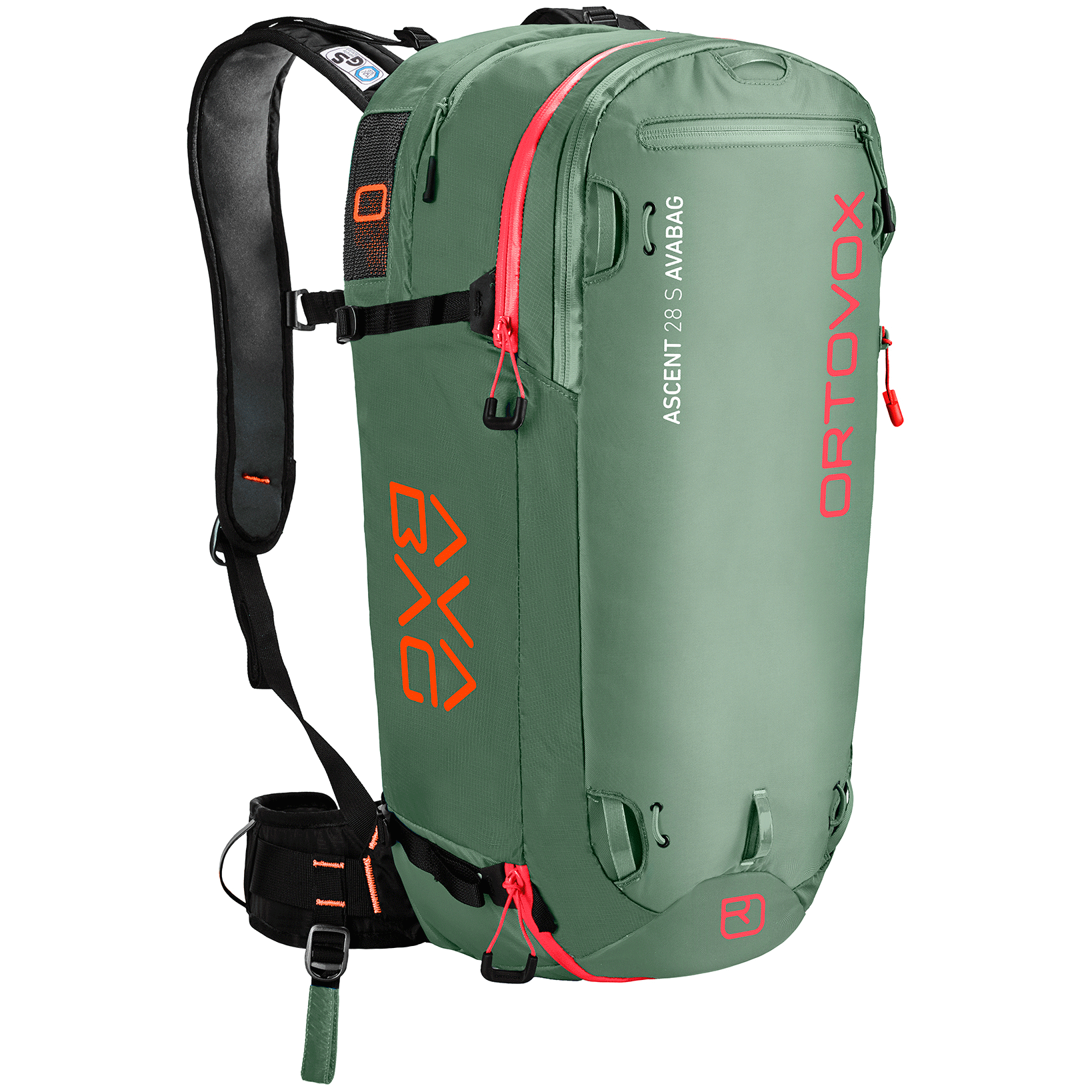 Ortovox Ascent 30 Avabag Kit
this airbag backpack is designed for women. Lightweight and functional.
RRP € 700,00
Details ansehen
That's what makes Avabag so special!
If you observe an avalanche from a distance and see how people are affected, it is important to keep a close eye on them and their final position. Knowledge of the situation is the most important prerequisite for a timely rescue. The mountain sports expert from Liezen also has some tips for avalanche helpers:
COMPACT
The release unit sits inside the venturi, forming a completely closed, robust system that does not require electronics. Contamination, icing or corrosion can be ruled out.
EFFECTIVE
The innovative welding technology of the airbag allows for a small pack size, while at the same time improving tear resistance and impermeability.
REMOVABLE
The Avabag unit can be removed quickly and easily and is compatible with all other Ortovox Avabag avalanche backpacks.
ADJUSTABILITY
The front-facing handle improves accessibility even in awkward fall positions. And on the lift, the handle can be quickly and securely stowed in the zipped compartment without restricting carrying comfort.
GRIP
The ergonomic shape in 360° design in combination with aggressive edges and the grippy surface enables the easiest release with all glove types and grip styles for left- and right-handers. Furthermore, the grip position can be adjusted to the personal optimal position (S / L).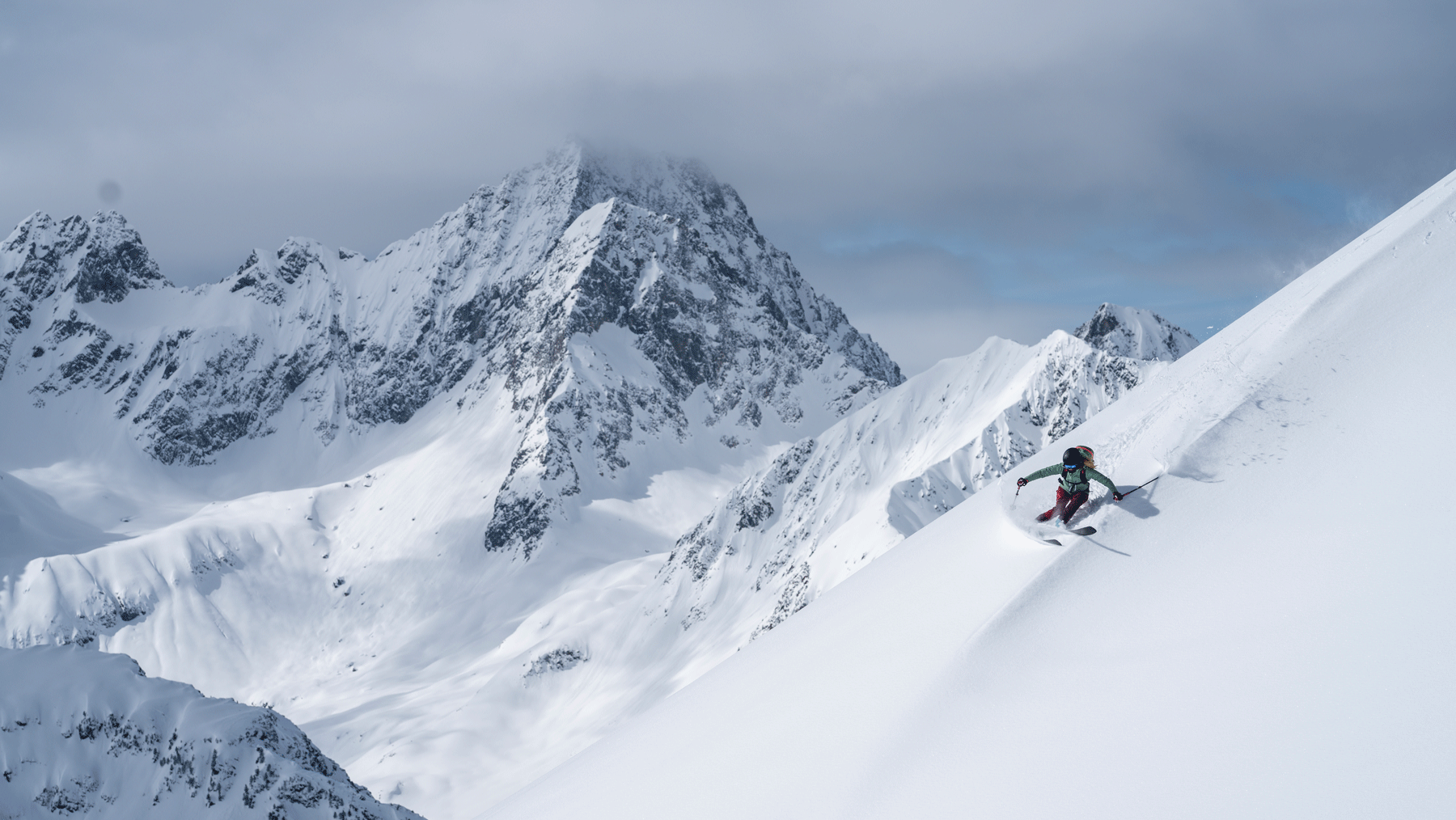 Learning risk management for more enjoyment of the sport
Whether on ski tours or freeriding: Whenever you go into unsecured terrain, you must be able to assess the avalanche risk. Careful planning, adapted behaviour in the terrain and the experience to recognise potential danger spots are the basis for your safety on tour. In order to impart this knowledge, Ortovox has been offering safety training and avalanche transceiver training for beginners and advanced skiers since 2008 in cooperation with around 30 mountain schools in the form of its own Safety Academy, the world's largest training initiative for avalanche prevention.
True to the motto "Get trained and reduce the risk!"
Aims of the avalanche courses: best possible preparation to recognise dangers, assess the risk and take appropriate measures. In this way, you can carry out sensible risk management through considered action and continue to enjoy your sport for a long time to come.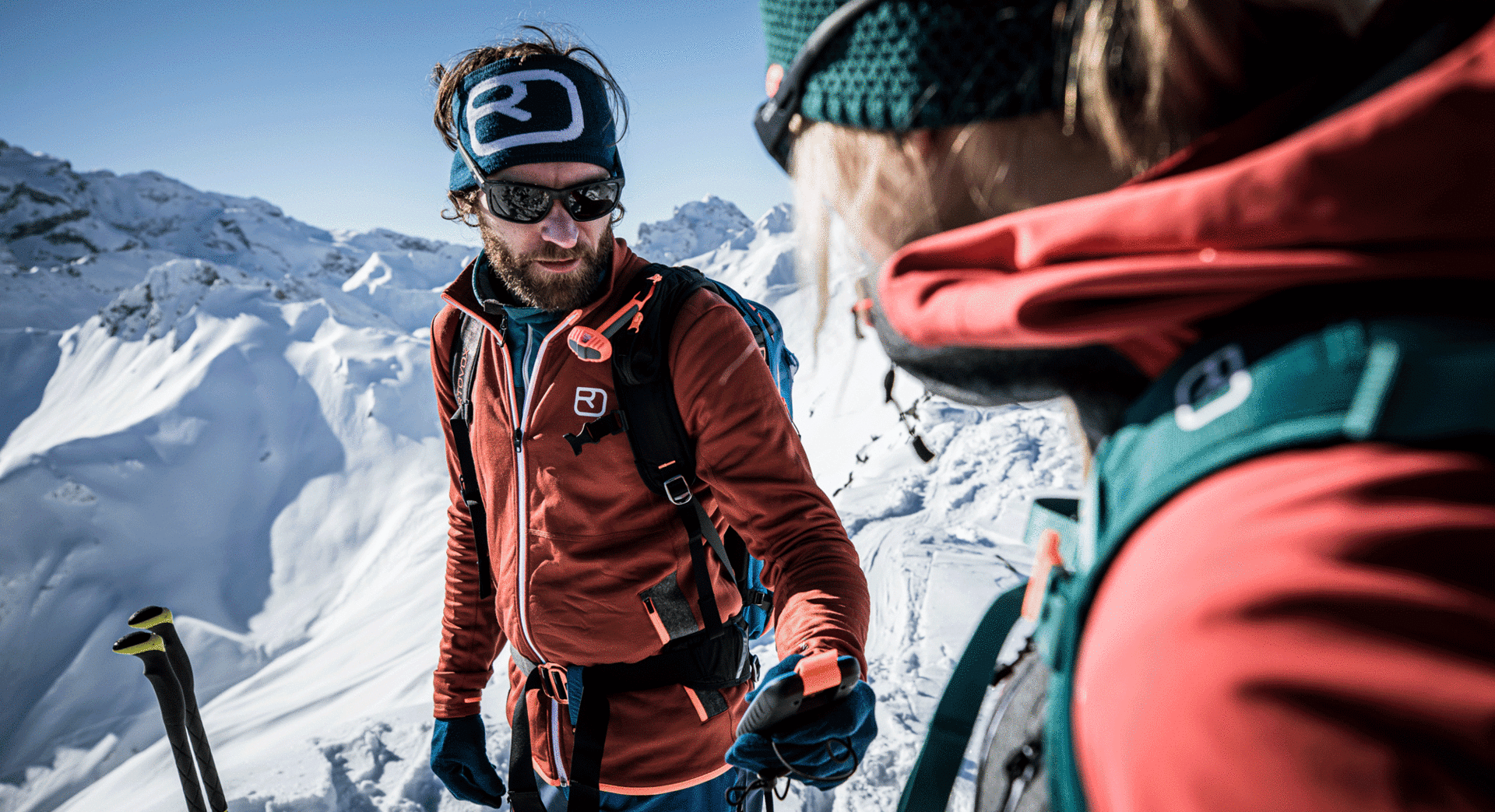 Approach the preparation with understanding
When it comes to safety in touring, there are so many things to consider in order to have experienced your mountain adventure with the greatest possible enjoyment at the end. Gerhard Vasold, managing director of SPORT Vasold in Liezen, is of the opinion that everyone must concern themselves with avoiding emergencies. He answered a few questions about this.
SPORT 2000: What do you have to consider when talking about safety on ski tours?
Gerhard: Preparation is very important, and it should be done intelligently in order to minimise the possible risks. Tour planning should include the weather, the operating times of the cable cars, your own physical condition and that of your companions. It is essential to plan for reserves. A tour must be adapted to your own performance limits. Personally, I recommend that every tourer keep a note with all the important tour data (start time, planned return, exact route, participants of the tour group) in a visible place in the car. As a note for others, should an emergency arise. Unfortunately, very few people do this. But in principle, it is important to make sure that no emergency occurs!
SPORT 2000: What should never be missing on the tour?
Gerhard: The avalanche transceiver (LVS) is a must on every tour. It's better to choose a simple device that you know how to use than a non-plus-ultra device that you don't understand. Regular practice with the device is the be-all and end-all. Airbag backpacks are also great. They are the only thing that actively protects you from being buried. Furthermore, a shovel with a telescopic handle and a metal shovel blade as well as ropes, a first aid kit, a rescue blanket and a heat bag are compulsory equipment. It is also very important to pack a spare set of clothing. But the best equipment is no use if you don't know how to use it.
SPORT 2000: What is important to you in an emergency?
Gerhard: The most important thing is the help of your comrades, nothing beats that.
SPORT 2000: How and how often do you maintain your safety equipment?
Gerhard: The safety equipment has to be checked regularly or before every tour. Especially for functionality, signs of wear and damage. The avalanche transceiver should always have a full battery and the avalanche backpack must be checked constantly. It is important that you activate it yourself at home so that you are not afraid to pull it out in an emergency situation. At least once a year you should take it to a specialist shop to have it checked. The basic rule is: control is everything!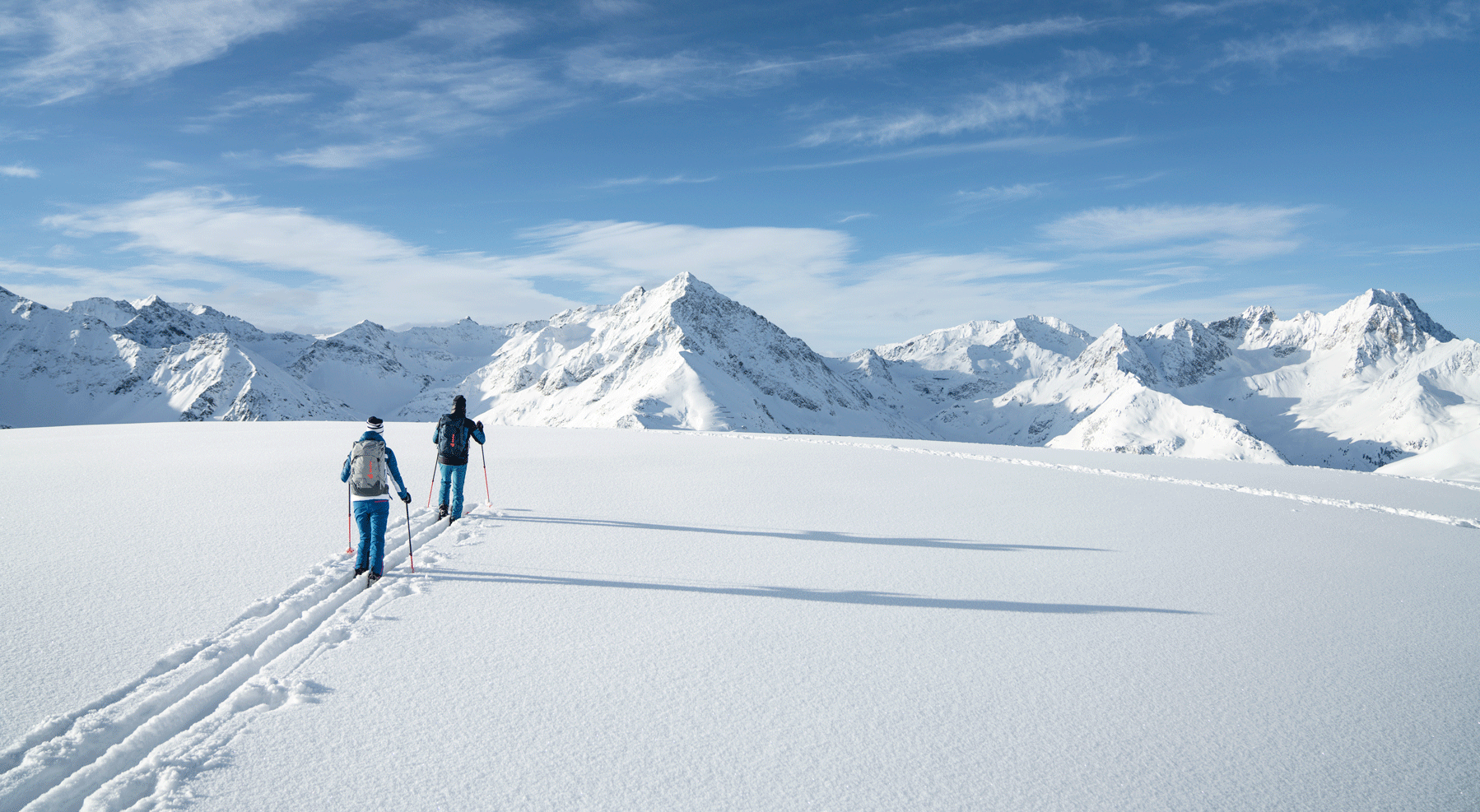 Most common mistakes and fatal errors
Carrying the avalanche transceiver in your backpack instead of on your body.
Plastic shovel instead of metal
Starting a tour without a plan and ignoring forecasts (weather, snow conditions, avalanche hazards).
Thinking they are safe with avalanche transceivers and other safety equipmen
False ambition
Do NOT put your hands in the loops of the poles, otherwise you run the risk of being carried away in an avalanche..
Forest does NOT protect you from avalanches; below the forest line it is just as dangerous.
Ski tracks made by others do NOT guarantee avalanche safety.
Tracks in the snow do NOT guarantee a safe route.