©
saalbach.com - Mirja Geh
Up to -20% discount on online bookings!
Ski rental Fieberbrunn
Your SPORT 2000 dealer is centrally located in the market town of Fieberbrunn.
CHECK IN FIEBERBRUNN SKIVERLEIH

6391 Fieberbrunn, Lindau 16 b

Array

Hire period: 01.12.2023 - 01.04.2024
CHECK IN FIEBERBRUNN SKIVERLEIH

6391 Fieberbrunn, Lindau 16 b

Array

Hire period: 01.12.2023 - 01.04.2024
Discover the Kitzbühel Alps on skis
Fieberbrunn ski area in the Saalbach Hinterglemm Leogang Ski Circus
The wonderful winter sports resort of Fieberbrunn in Tyrol is located in the Kitzbühel Alps and is the largest municipality in the Pillerseetal valley there. Consequently, it is not far to the famous ski resorts of Kitzbühel and St. Johann. Away from the hustle and bustle of the crowded neighbouring resorts, the ski area offers everything an ambitious skier loves. Since the merger with Bergbahnen Saalbach Hinterglemm Leogang, it has been possible to explore numerous other slopes in the so-called ski circus easily. It definitely doesn't get boring here! You can also rent first-class equipment at the SPORT 2000 Check in ski rental directly in Fieberbrunn, which saves you the hassle of lugging it around.
Fieberbrunn
With a total of 270 kilometres of perfectly groomed slopes and 70 lifts, the Skicircus Saalbach Hinterglemm Leogang Fieberbrunn makes the hearts of every winter sports fan beat faster. In addition to slopes in every variation, the beautiful terrain also offers cross-country ski trails and winter hiking trails worth seeing. It is not without reason that the Skicircus is one of the best rated winter resorts in Austria. Especially the cordiality of the locals is appreciated by the numerous national and international guests and makes them come back again and again. A skiing holiday in Fieberbrunn is a very special experience that you will always look back on with pleasure.
©
saalbach.com - Mirja Geh
Book online now
Our rent shops
Location rating Fieberbrunn
Ski Hotspot in Tirol
©
saalbach.com - Mirja Geh
©
saalbach.com - Mirja Geh
Action, fun and excitement
skiing experience in magical Fieberbrunn
Over 270 kilometres of varied pistes make the Fieberbrunn ski area and the Skicircus Saalbach Hinterglemm Leogang Fieberbrunn a dream for skiers, snowboarders and freeriders. Just under half of the slopes, namely 140 kilometres of pistes, are marked blue and are therefore particularly suitable for hobby skiers and returning skiers. On 112 red and 18 black kilometres of pistes, advanced and professional skiers like to let off steam. For the little ones, the Fieberbrunn ski area naturally offers a children's park that guarantees fun and excitement.
The slopes around the Pründlkopf are particularly recommended. Speed and race courses such as the World Cup downhill run on Schattberg West, on Zwölferkogel or mogul slopes push even experienced skiers to their skiing limits. The Schattberg downhill run, on the other hand, with a length of 7 kilometres, promises a leisurely afternoon round.
Freeriders and freestylers can choose between 5 snow parks and a freeride park on the Lärchfilzkogel, which is one of the highlights of the Freeride World Tour. A SkiMovie route, Skicircus rounds through the entire ski resort and floodlit routes complete the extensive winter offer of the ski area.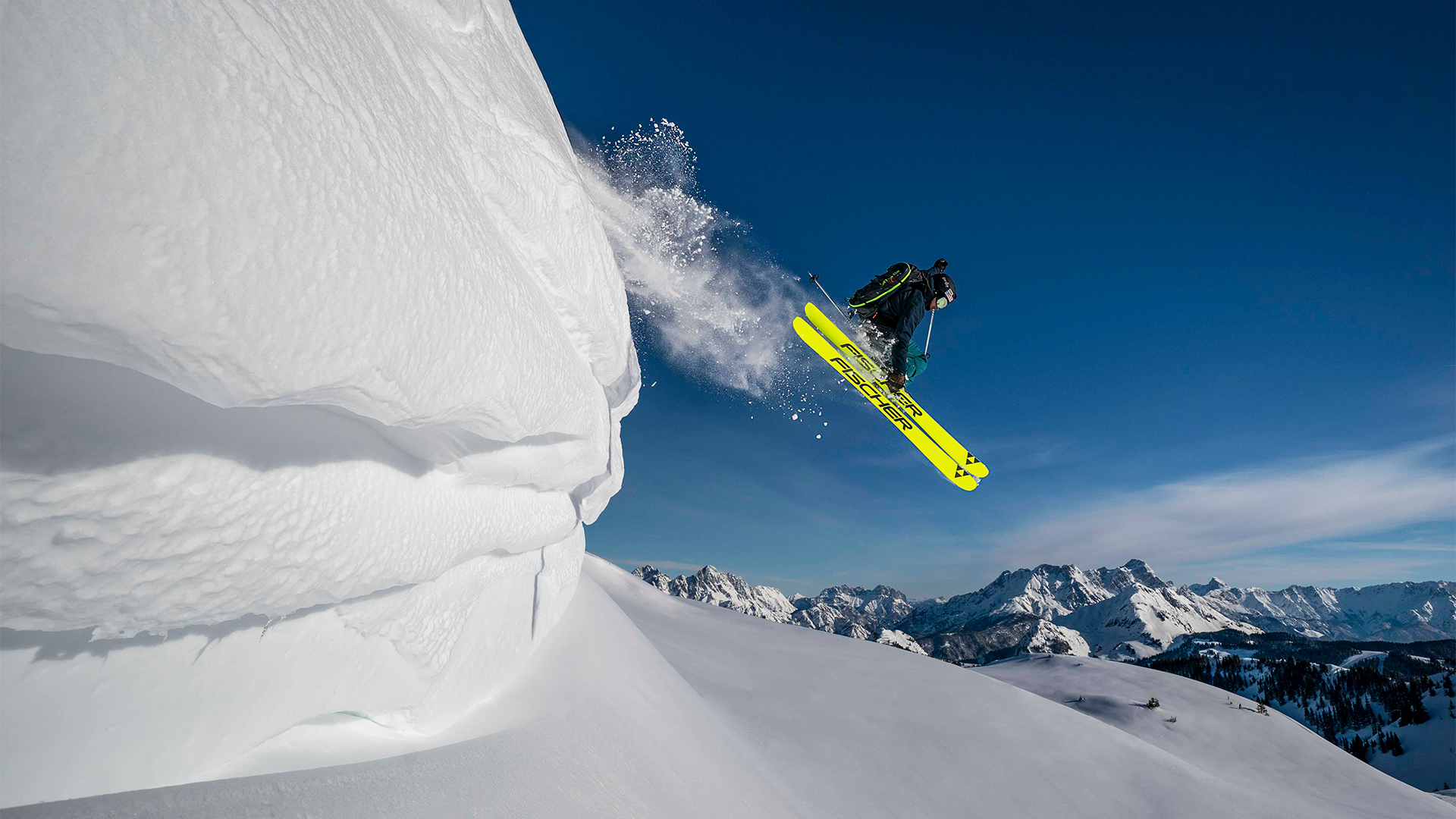 Ski rental SPORT 2000 Check in Fieberbrunn
Comprehensive range and professional advice
What you should never be without on a skiing holiday is the right skis or board. If you want to save space in the car or travel by public transport, you can easily rent the necessary ski equipment at the SPORT 2000 Check ski rental in Fieberbrunn. Located directly at the Streuböden valley station, you will find brand new skis, modern snowboards and safety equipment such as helmets or protectors. If you forget your hat, gloves or sunglasses, they will also help you.
Years of experience and a highly trained team make the SPORT 2000 Check ski rental in Fieberbrunn a popular place to go for both locals and guests. Thanks to the online guarantee, you can even save up to 10% when booking in advance via the website. But not completely satisfied with your choice? No problem - a one-time free exchange within the same category is of course possible.
Additional services such as shoe fitting, a large depot and waxing and edge grinding round off the extensive range. The professional staff carry out all work to the highest quality and provide comprehensive and competent advice.
Unforgettable winter holiday
Top skiing area Fieberbrunn
Whether perfectly groomed pistes or untouched, glistening deep-snow slopes: everyone gets their money's worth in Fieberbrunn. Especially the 2,119 m high Wildseeloder is a true paradise for freeriders and a regular venue of the international Freeride World Tour. There are both challenging and less demanding routes for tourers. Highly trained guides lead you through the magnificent landscape on request.
Cross-country skiers can let off steam on the approx. 22 kilometre network of trails, whether beginner or advanced. One of the most remarkable events in the vicinity of Fieberbrunn, the Biathlon World Cup, takes place annually in the Pillerseetal region and offers great sport amidst a fabulous backdrop.
Even away from the pistes and cross-country ski runs, there is plenty to experience on a winter holiday in the Fieberbrunn ski area in Tyrol. A particular highlight, especially for children, is definitely the llama trekking. On a guided tour, with or without a snack, you can enjoy the wonderful surroundings and simply switch off. Other alternatives for leisure activities are the popular horse-drawn sleigh rides, tobogganing or curling. Those looking for an adrenaline kick will find what they are looking for with the Para-Taxi: Starting from the Lärchfilzkogel, you glide down into the valley and can enjoy the breathtaking view.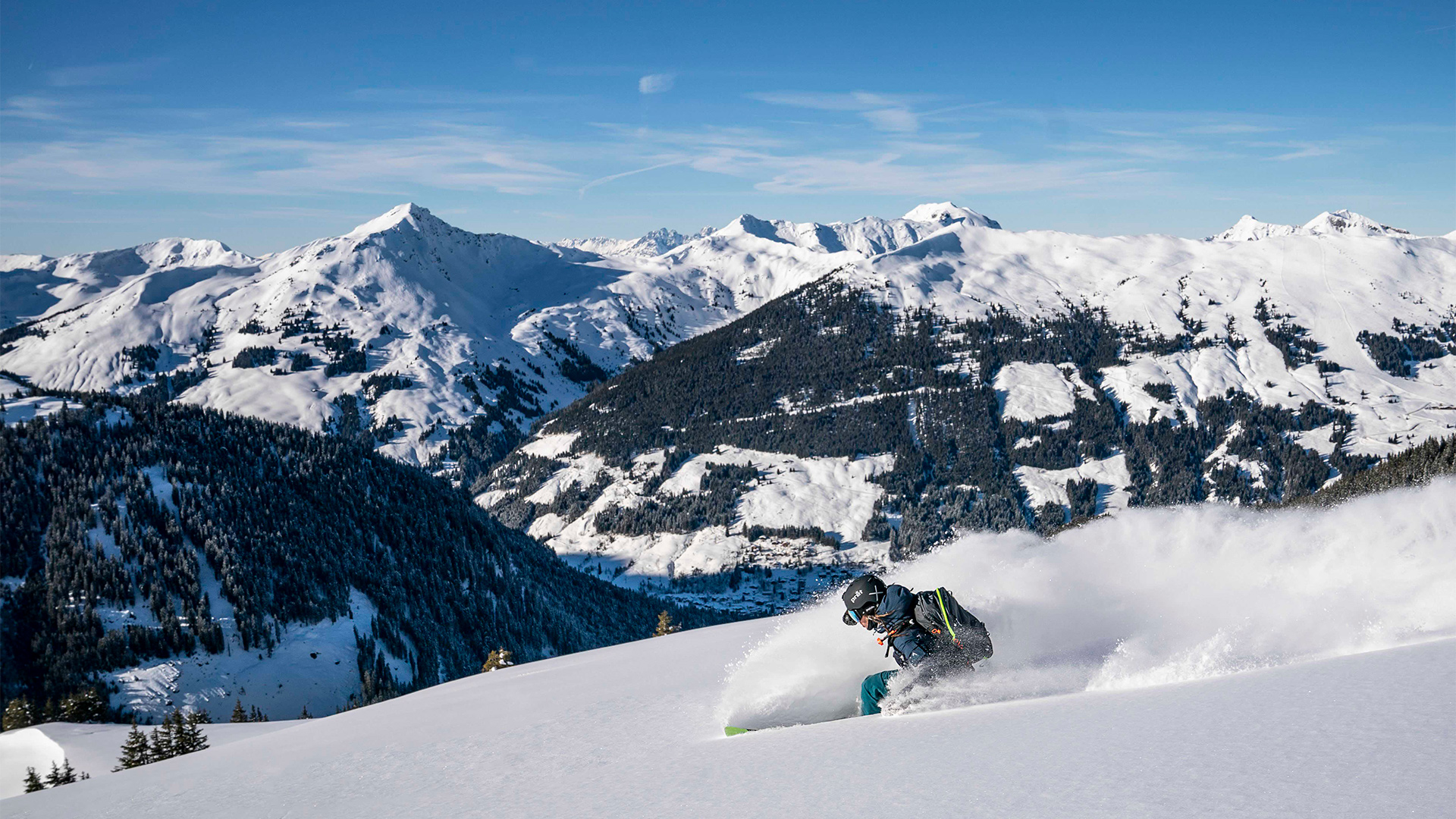 Ski rental Fieberbrunn - Frequently Asked Questions
Where can I rent skis in the Fieberbrunn ski area in Salzburg?

Your SPORT 2000 dealer is located directly in Fieberbrunn:

Ski rental SPORT 2000 CHECK IN St. Johann in Tirol
Lindau 16b
6391 Fieberbrunn
Tirol

Where is the Fieberbrunn ski area located?

In the midst of the Kitzbühel Alps in Tyrol is the small, tranquil Fieberbrunn in the Pillerseetal. For a few years now, it has been part of the Saalbach Hinterglemm Leogang ski circus and thus offers skiing pleasure on over 270 kilometres of pistes. It takes less than 15 minutes to drive to St. Johann, and Saalfelden or Kitzbühel itself can be reached in about 25 minutes. The short distances to other skiing areas allow for an even more varied experience than is already given directly in Fieberbrunn.

What does a winter holiday in the Kitzbühel Alps in the Fieberbrunn ski area offer me?

The small Tyrolean village of Fieberbrunn is not only a dream for skiers and snowboarders. Horse-drawn sleigh rides, curling, cross-country skiing or extensive hikes ensure a varied winter holiday. A highlight is the llama trekking offered or the para-taxi, where you glide slowly down into the valley amidst the magnificent mountain panorama.