©
TVB Stubai/Andre-Schoenherr
Up to -20% discount on online bookings!
Ski rental Neustift on the Stubai Glacier
Your SPORT 2000 dealer is located directly in Neustift im Stubaital.
Skiing area Stubai Glacier
A skiing experience of superlatives
About thirty minutes away from Innsbruck, in one of the most beautiful high mountain valleys in Tyrol, lies a winter sports resort of international interest. Neustift im Stubaital has almost one million overnight stays per year and is therefore one of the most important winter sports centres in the region. The third largest municipality in Tyrol in terms of area offers its guests everything a skier's heart desires.
Neustift
26 state-of-the-art cable cars and lifts bring countless guests to the snowy Tyrolean glacier mountains of Neustift im Stubaital every winter. A special comfort slope guarantees leisurely descents for families and older guests. Skiing novices and children have the opportunity to develop their skills on the practice lifts and magic carpets. Professionals also get their money's worth, not only thanks to the race track with speed measurement.
©
TVB Stubai/ Andre Schoenherr
Book online now
Our rent shops
Location rating Neustift
Ski Hotspot in Tirol
©
TVB Stubai/ Andre-Schoenherr
©
TVB Stubai/ Andre-Schoenherr
Skiing in the Stubaital
5 glaciers & 110 fantastic kilometres of pistes
Visit the enchanting Neustift in the Stubaital and experience a winter stay of superlatives. The fabulous village of Neustift is made up of several districts and is known for its vast and unspoilt landscape. One of these districts is Milders, which enjoys great popularity among skiers under the name Neustift-Milders. Thanks to the very high snow reliability, you don't have to worry about your skiing holiday and can look forward to sweeping descents in powder snow. There are 110 kilometres of varied pistes spread over five glaciers. This makes the Stubai Glacier ski area in Tyrol the largest glacier ski area in Austria.
Skiing on the glacier in Austria
Skiing in the Stubaital is particularly suitable for families. In addition to the practice lift and magic carpet, there are over 37 km of blue pistes, guaranteeing fantastic skiing fun for children and beginners. 32 km of red and black slopes for advanced and professional skiers complete the skiing experience at the Stubai Glacier. Away from the groomed runs, there are over 36 km of ski routes and thus almost limitless possibilities for deep snow skiing. Snowboarders and freestylers get their money's worth in the Snowpark Stubai Zoo.
If you have overused your skis on the countless routes, ski rental SPORT 2000 Hofer in Neustift im Stubaital will reliably help you. There you can not only rent skis, but also use the ski service - from edge sharpening and waxing to binding adjustments.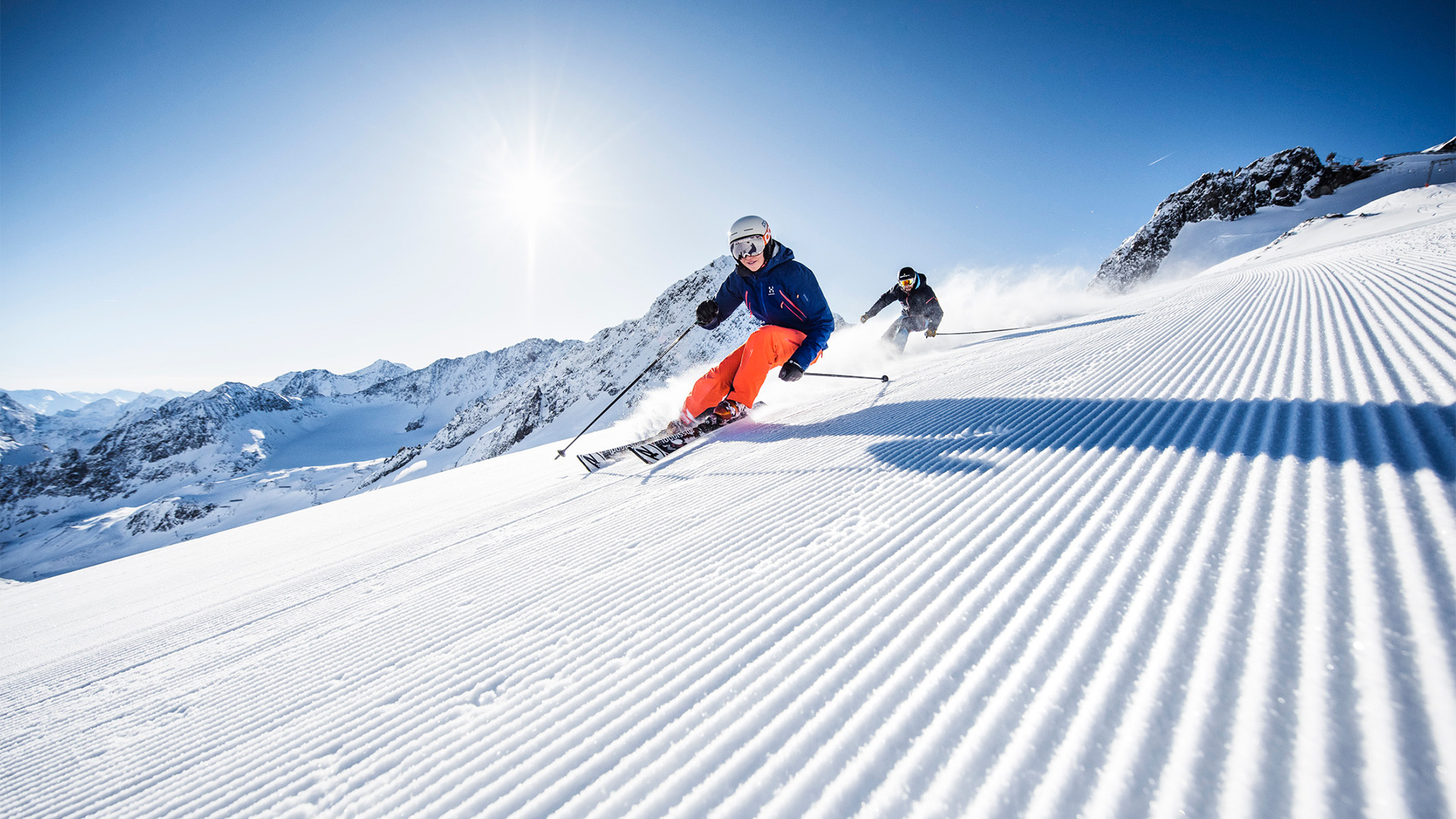 Ski rental Neustift im Stubaital
Always the perfect equipment for you
Have you always wanted to test the latest ski models or try your hand at another winter sport? No problem, the ski rental Neustift makes all this possible for you and always has the perfect equipment ready for you - including numerous advantages. State-of-the-art equipment and excellently trained staff ensure perfectly maintained equipment and reliable service. Whether for one day of skiing or for a longer skiing holiday, you will find exactly what you are looking for at the SPORT 2000 Hofer ski rental in Neustift im Stubaital. It's easy to choose your equipment the day before, book it and be prepared for skiing the next day. Thanks to the online discount, you can save up to 20% compared to local prices! You can also benefit from the "6 + 1 free" promotion and free exchange in the booked category, for example, if you don't feel 100% comfortable with your chosen ski or snowboard.
Special services such as free equipment for children, free helmets on loan and attractive all-inclusive offers at a first-class price-performance ratio additionally characterise the special skiing experience in the Neustift ski area on the Stubai Glacier.
The SPORT 2000 ski rental in Neustift im Stubaital will not let you down if you have any problems or other concerns. Various services are offered for skis and snowboards. These include, for example, edge sharpening for perfect fun on the slopes even after several days, binding adjustments, waxing or repair work.
Off the slopes
regional delicacies, fun and excitement
Fresh and delicious regional delicacies await you at 2,900 metres above sea level in the Schaufelspitz restaurant at the Eisgrat mountain station. A traditional fireplace, a stone pine parlour and a show kitchen let you really feel the unique flair.
Another highlight is the TOP OF TYROL summit platform with its innovative construction that juts out over the rock. Here, a spectacular view of 109 three-thousand-metre peaks at an incredible 3,201 metres above sea level is revealed.
For adventurers, a visit to the ice climbing tower is recommended. Equipment can be rented at the Stubai Alpin mountain guide office in Neustift in the Stubaital. A beginners' course can also be booked here. Very experienced climbers can venture to one of the numerous frozen waterfalls. Those who love ice but not climbing can look forward to natural and artificial ice rinks for ice skating.
Classics such as cross-country skiing, touring or tobogganing are of course just as possible on the Stubai Glacier.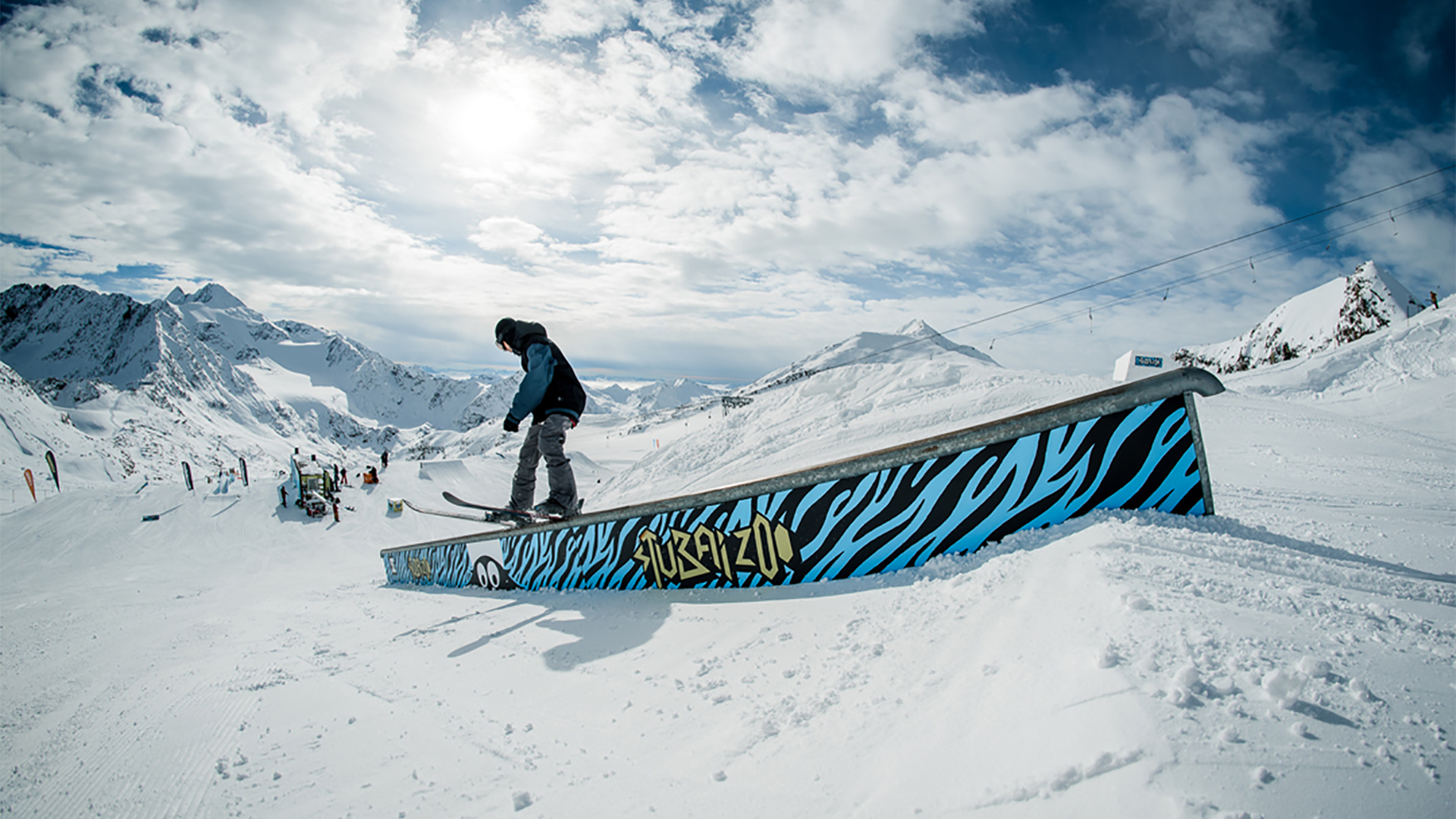 Ski Rental Neustift - Frequently Asked Questions
Where can I rent skis in Neustift am Stubaier Gletscher?

Your SPORT 2000 dealer is located directly in Neustift im Stubaital:

Ski rental SPORT 2000 HOFER Am Dorf 13
6167 Neustift
Tyrol

Where is the Stubai Glacier ski area located?

30 minutes by car from Innsbruck, at the very end of the Stubai Valley, is the Stubai Glacier. At almost 3,000 metres above sea level, it offers a mountain panorama of a special kind. The proximity to the glacier area makes the small Tyrolean village of Neustift im Stubaital the most popular destination for a varied skiing holiday in the region.

What does a winter holiday on the Stubai Glacier offer?

Numerous kilometres of pistes form the basis for a fantastic skiing holiday. Other winter sports such as cross-country skiing, tobogganing or ice skating also provide enough variety. Touring skis can also be rented at the SPORT 2000 Ski Rental Hofer.

Around 5,000 m² of natural ice await young and old ice skaters in the Stubaital. Curling is also possible here. There is also an ice rink directly in Neustift, including an ice disco in the evening.

In the middle of the Stubai Glacier ski area, the 20-metre-high ice climbing tower in Gamgsgarten offers both beginners and advanced climbers a little adrenaline kick. To calm down again afterwards, a walk in the snow, a horse-drawn sleigh ride or a visit to the wellness hotel, for example, are ideal. This makes a winter holiday a wonderful experience.